SEPTEMBER 18, 2018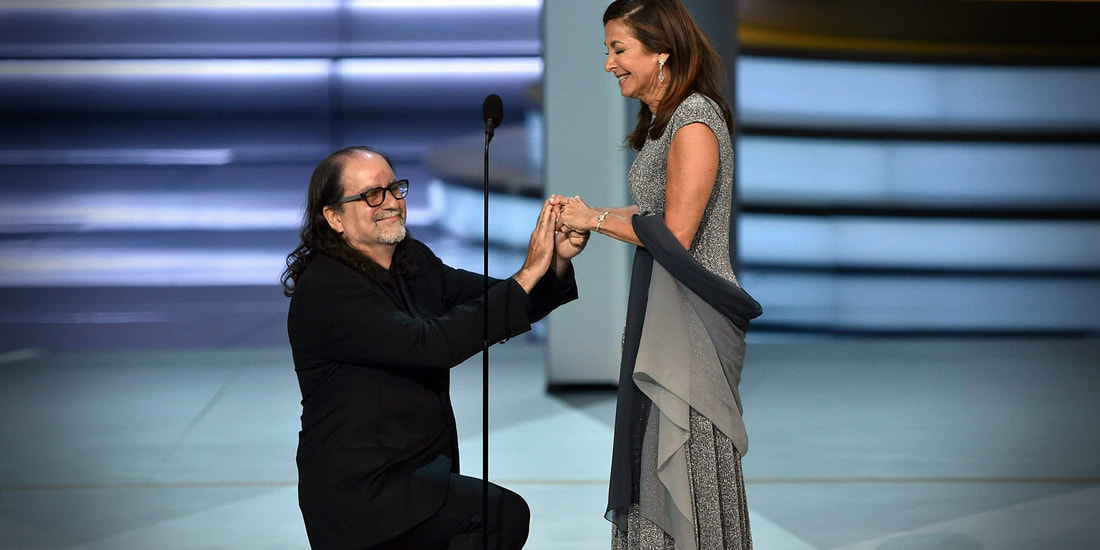 "Games of Thrones" and "The Marvelous Mrs. Maisel" may have been winners at this year's Emmys, but the biggest winners of all might have been Emmy-winning director Glenn Weiss and his girlfriend Jan Svendsen.
During his acceptance speech after winning the Emmy for directing the Oscars, Weiss turned to Svendson beaming in the audience and asked her to marry him.  He produced the wedding ring of his mother, who died just two weeks before, and got down on one knee to make the proposal.  (P.S.  She accepted.)  It was one of the few truly human moments in what was an otherwise routine Emmys.
"Saturday Night Live" anchors Colin Jost and Michael Che did a fairly toothless job of hosting — any 10-minute episode of "Weekend Update" had more bite than their hosting job here.  Lorne Michaels produced the 70th annual Emmy ceremony, so there was the predictable parade of "SNL" performers throughout the evening, particularly in an opening musical number and an unfunny recurring bit with Fred Armisen and Maya Rudolph.
But when the show stuck to the awards themselves, it was on much firmer ground.
With Emmy perennial "Veep" sidelined this season, there was a slew of fresh faces in the winner's circle.  The big winner was Amazon's "The Marvelous Mrs. Maisel," a comedy about a housewife breaking into the world of stand-up comedy in the 1950s, which bagged the big prize for Outstanding Comedy Series.  Star Rachel Brosnahan and supporting actress Alex Borstein also won their respective categories.  (This is actually Borstein's second Emmy this year — she also won for her voice performance as Lois Griffin on "Family Guy.")  And the series' creator, Amy Sherman-Palladino, who was overlooked for years as the driving force behind "Gilmore Girls," finally got her due, winning for writing and directing the series pilot.
On the male side, Bill Hader was named the year's best actor for his role as hitman-turned-fledgling actor in "Barry," and in one of the show's great moments, Henry Winkler, who has remained Emmy-less during his four decades as a television icon, won his first Emmy for his supporting work as an acting teacher in "Barry."
On the drama side, the awards were more spread out.  "Game of Thrones" picked up its third Emmy as Outstanding Drama Series, and Peter Dinklage earned his third Best Supporting Actor Emmy.  To this date, Dinklage remains the only "Game of Thrones" actor ever to win an Emmy for the series.  In their final seasons on their shows, Matthew Rhys ("The Americans") and Claire Foy ("The Crown") took the leading acting prizes, while Thandie Newton won the supporting actress Emmy for her Japanese-speaking role in "Westworld."
In the Limited Series/TV Movie area, Darren Criss became the first Filipino/American actor to win an Emmy for his performance as assassin Andrew Cunanan in "The Assassination of Gianni Versace: American Crime Story."  A major upset occurred in the Actress category with Emmy magnet Regina King beating favored Laura Dern ("The Tale") to snag the Emmy for Netflix's cancelled "Seven Seconds."  Two actors from Netflix's Western "Godless" — former Emmy winners Jeff Daniels and Merritt Wever — triumphed again.  And "Gianni Versace" took home one of its 7 Emmys as Best Limited Series/Television Movie.
And in one of the most fiercely competitive categories of the night for Reality/Competition Series, the three-time champion "The Voice" was finally dethroned by the VH-1 series "RuPaul's Drag Race," which also won four other Emmy Awards, one of the highest totals of the year.  The "Drag Race" win marked the first time in the history of the category where the series win matched the winner of Outstanding Reality/Competition Host, which RuPaul Charles has now won three years in a row.
One final note to the producers of the Oscars:  for weeks now, we've been hearing you whining about how you couldn't possibly give out 24 Oscar categories in a mere 3-hour slot, so you'll have to eliminate between 6-8 categories for an on-air presentation.  As problematic as this year's Emmys may have been, they awarded 27 categories plus an opening musical number and monologue and running comedy bit and an "In Memoriam" segment in 3 hours with minutes to spare.  So shut your yaps and restore those categories on-air.  You're better than all this whining.
That said, these are the Emmy winners announced on the Monday night broadcast:
OUTSTANDING DRAMA SERIES — "Game Of Thrones"
OUTSTANDING COMEDY SERIES  — "The Marvelous Mrs. Maisel"
OUTSTANDING LIMITED SERIES — "The Assassination Of Gianni Versace: American Crime Story"

OUTSTANDING VARIETY TALK SERIES– "Last Week Tonight With John Oliver"

OUTSTANDING VARIETY SKETCH SERIES — "Saturday Night Live"
OUTSTANDING REALITY COMPETITION SERIES — "RuPaul's Drag Race"
OUTSTANDING LEAD ACTRESS IN A DRAMA SERIES — Claire Foy ("The Crown")

OUTSTANDING LEAD ACTOR IN A DRAMA SERIES — Matthew Rhys ("The Americans")
OUTSTANDING DIRECTING FOR A DRAMA SERIES — Stephen Daldry ("The Crown")
OUTSTANDING WRITING FOR A DRAMA SERIES — "START" ("The Americans")
OUTSTANDING SUPPORTING ACTRESS IN A DRAMA SERIES — Thandie Newton ("Westworld")
OUTSTANDING SUPPORTING ACTOR IN A DRAMA SERIES — Peter Dinklage ("Game of Thrones")

OUTSTANDING DIRECTING FOR A VARIETY SPECIAL — Glenn Weiss ("The Oscars")

OUTSTANDING WRITING FOR A VARIETY SPECIAL — "John Mulaney: Kid Gorgeous At Radio City"
OUTSTANDING LEAD ACTOR A LIMITED SERIES, MOVIE OR DRAMATIC SPECIAL– Darren Criss ("The Assassination Of Gianni Versace: American Crime Story")
OUTSTANDING LEAD ACTRESS A LIMITED SERIES, MOVIE OR DRAMATIC SPECIAL– Regina King ("Seven Seconds")
OUTSTANDING DIRECTING FOR A LIMITED SERIES, MOVIE OR DRAMATIC SPECIAL — Ryan Murphy ("The Assassination Of Gianni Versace: American Crime Story")
OUTSTANDING WRITING FOR A LIMITED SERIES, MOVIE OR DRAMATIC SPECIAL– "USS Callister (Black Mirror)"
OUTSTANDING SUPPORTING ACTOR IN A LIMITED SERIES OR MOVIE — Jeff Daniels ("Godless")
OUTSTANDING SUPPORTING ACTRESS IN A LIMITED SERIES OR MOVIE — Merritt Wever ("Godless")
OUTSTANDING LEAD ACTOR IN A COMEDY SERIES — Bill Hader ("Barry")
OUTSTANDING LEAD ACTRESS IN A COMEDY SERIES — Rachel Brosnahan ("The Marvelous Mrs. Maisel")

OUTSTANDING SUPPORTING ACTOR IN A COMEDY SERIES — Henry Winkler ("Barry")
OUTSTANDING SUPPORTING ACTRESS IN A COMEDY SERIES — Alex Borstein ("The Marvelous Mrs. Maisel")
OUTSTANDING WRITING FOR A COMEDY SERIES — Amy Sherman-Palladino ("The Marvelous Mrs. Maisel")

OUTSTANDING DIRECTING FOR A COMEDY SERIES — Amy Sherman-Palladino ("The Marvelous Mrs. Maisel")