SEPTEMBER 20, 2018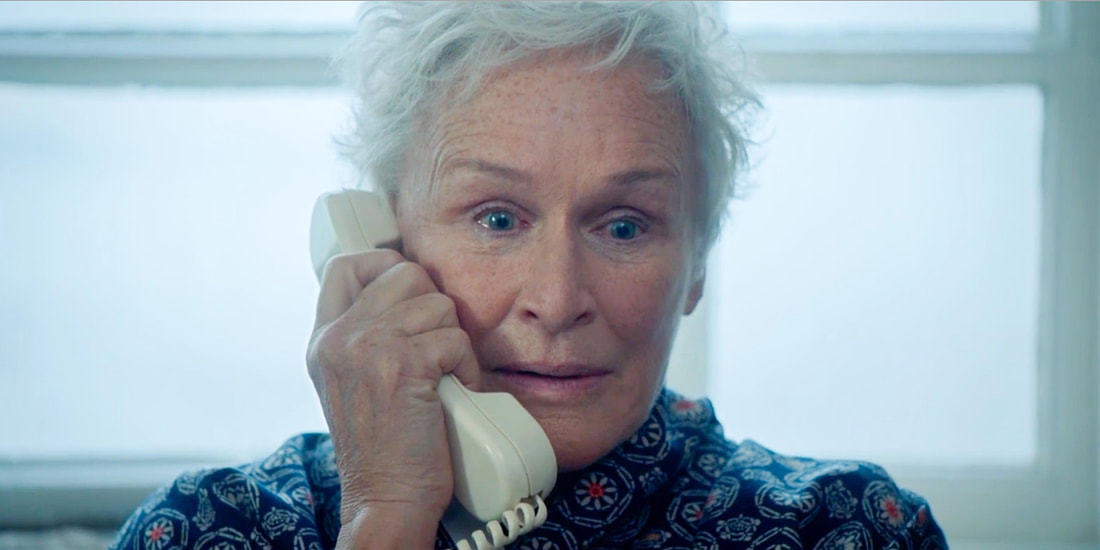 There is no actor alive who has more Oscar nominations without a win than Glenn Close.  But that might change with this year's ceremony in February, thanks to her staggering performance in "The Wife."
Now I have to warn you.  This is not one of those performances that starts at volume 10 and goes up from there.  This is a slow-burn performance, so much so that by the time the second act ended, I thought to myself "She's good.  But Oscar?  Really?"  By the time Act 3 arrives, however, the "Oscar? Really?" question is out the window.  This is an Oscar-worthy performance and then some.
Close plays Joan Castleman, dutiful wife to world-renowned writer Joe Castleman (Jonathan Pryce), who was once Joan's literature professor.  Joe receives a call informing him that he has been chosen to receive the Nobel Prize for Literature, and together they make the trip to Stockholm for the ceremony.
As Joe takes his bows in front of the men on the committee, Joan begins to simmer with resentment.  Unbeknownst to her, she is being stalked by a reporter (Christian Slater), who tries to get a reaction out of her by saying that he knows all about the many romantic indiscretions that Joe has committed.  Joan doesn't rise to take the bait, even though she harbors a secret that could destroy his reputation.
The director of "The Wife" is Swede Björn Runge, who is OK, but he usually just places the camera in front of Close and Pryce and let them do their thing.  And that's fine.  Pryce, who is esteemed as a stage actor (with two Tony Awards under his belt for 1975's "Comedians" and 1979's "Miss Saigon") also scales back his performance to match Close's, knowing that his character is not the man who is worthy of receiving the adulation that he is getting but is lapping it up nonetheless.
But this is Close's show, and she makes the most of it.  She begins the film as an equal, as Joe insists that she be on the call from Stockholm (pictured above) when he gets the news from the Nobel committee.  Joe and Joan are thrilled together, but once they get to Sweden and Joe is enveloped in the boys' network, you watch Close's supportive smile begin to crumble, and your heart goes out to her.  (Close had a similarly effective moment in "Dangerous Liasons" when, in extreme close-up, a single tear eventually emerges from her eye.)
I wouldn't make a revelatory review for the film, but I would make an enormous case for Close and the subtlety that she brings to the role.  Glenn Close vs. Lady Gaga ("A Star Is Born") at the Oscars?  I can't wait.
GRADE: B+