SEPTEMBER 27, 2018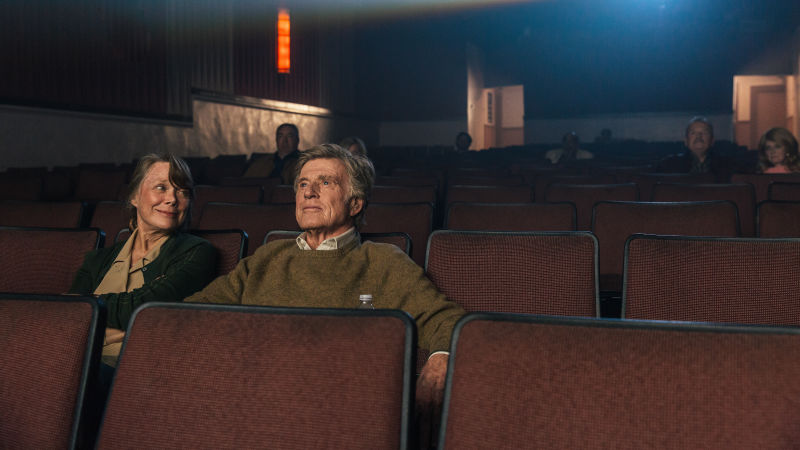 For months now, Robert Redford in David Lowery's "The Old Man & The Gun" was talked up as being a major Oscar player.  Now that I've seen it, he isn't, but that doesn't mean the film is not worth catching.
Instead, it's something else that's wonderful — a valentine to one of our greatest living movie stars.  For me, at least, Redford has been a conundrum, as a performer with the soul of a character actor who is stuck in the body of an incredibly handsome movie star with a beauty that keeps him from being cast in the down-and-dirty parts that he seems to be born to play.
His portrayal of Forrest Tucker (no, not the legendarily well-endowed actor), who is instead the real-life bank robber who was said to be amiable as he relieved bank tellers of the pesky dollar bills in their cash drawers, is strong, drawing on his charm as a movie star while implying the menace that his character actor persona wants to bring to the fore.
As a bank robbery film,"The Old Man and the Gun" is OK, but it's much more effective as a movie star film.  But Redford is not enough.
Enter the "Coal Miner's Daughter" Oscar-winning star Sissy Spacek, and now we have a real movie.
The chemistry between Redford and Spacek is palpable, but, unfortunately, a movie titled "The Old Man & the Gun" needs more.  Still, watch Redford and Spacek in simple scenes at a diner.  They sit across from each other and just talk.  Nothing more.  And it's transfixing.  That's why they're stars.
When we get to the bank robbery stuff, Lowery thankfully eschews the usually violent action approach to focus on individual incidents.  Redford's Tucker politely asks bank managers and tellers to hand over their money by opening his coat and displaying his weaponry.  No muss, no fuss.  He's got two elderly accomplices in Teddy (Danny Glover, underused) and Waller (Tom Waits, delightful), and though the heists don't take up too much screen time, they do set the background for Tucker's criminality.
In any bank robbery movie, there's got to be an antagonist, and here it's Detective John Hunt (Casey Affleck) who is determined to bring this geriatric bank robber to justice.  The way that Lowery constructs the movie is by keeping Tucker and Hunt apart from each other until a climactic scene in a men's room when Tucker confronts Hunt and toys with him, much to the lawman's humiliation.
Yes, the Redford/Affleck scenes are supposed to be among the film's big moments, but the sequences that really resonated with me were the scenes with Redford and Spacek.  Director Lowery makes no attempt to hide the characters' age (Redford is proudly 82 and Spacek is 68), and, in shooting the film with minimal make-up, the very well-earned lines in their faces come through, only enhancing their characters.
Even if their fine performances are not necessarily the pinnacles of their careers (and each have had many), the chemistry that both Redford and Spacek display here is warm and inviting, and it makes "The Old Man & the Gun" much more than the mere genre picture that it might have been.
And if Redford proves true to his word (that he has hedged on a little this week) that this is his final film, he should find some comfort in knowing that the Sundance Kid is going out with both guns blazing.
GRADE: B