DECEMBER 19, 2018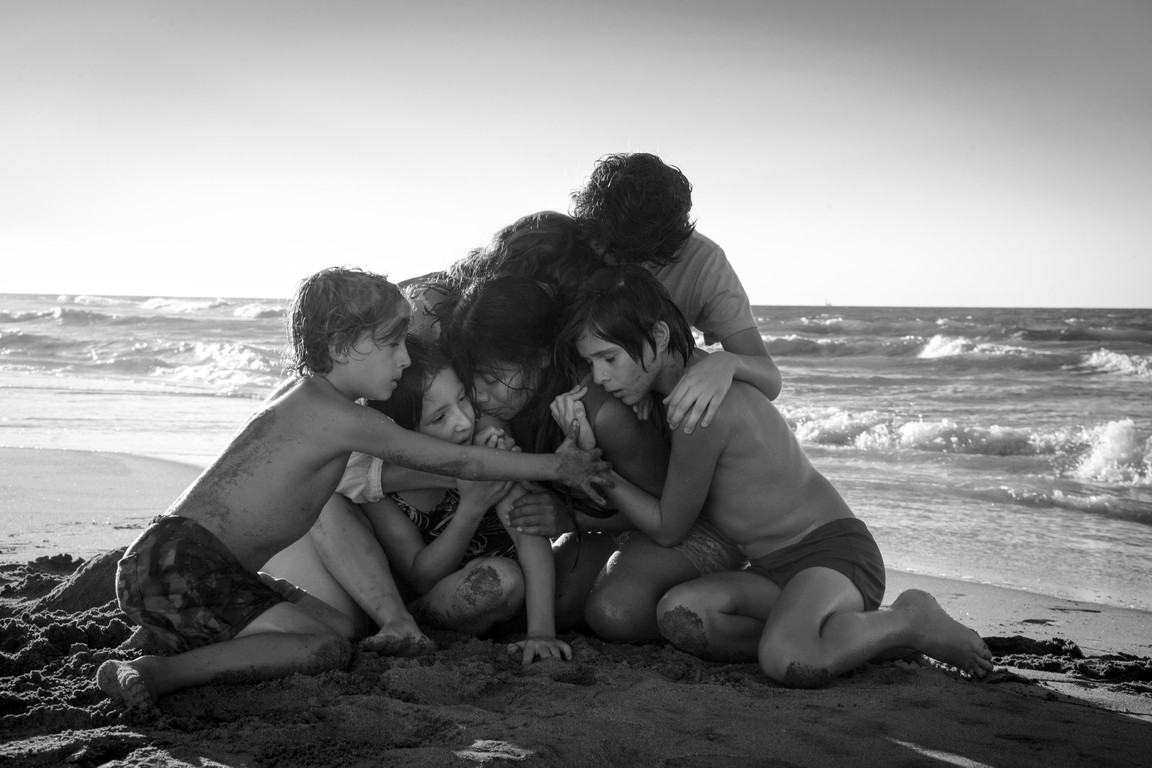 Let's just get to it — Alfonso Cuarón's "Roma" is a stunningly beautiful movie.  It's streaming right now on Netflix, so that if you subscribe to the streaming service, please click on it now!
However, if you are lucky enough to live in a city where Netflix has arranged screenings in a theater, run (don't walk) to see it on the big screen.  Cuarón's gorgeous black-and-white cinematography is breathtaking, and the sound design is remarkable.  (At one point, I thought that I heard people yelling at the back of my theater, only to realize that it was part of Cuarón's sound plan.)
"Roma" is a memory piece by the Mexican director and illustrates how he recalls growing up in Mexico City in the early 1970s.  Like any memory piece, it's particular to Cuarón's life, but unlike some other personal memory pieces, it's particularly universal in its impact.
Cuarón, who won the Best Director Oscar for 2013's "Gravity," is one of three Mexican directors — Alejandro G. Iñárritu ("Birdman." "The Revenant") and Guillermo del Toro ("The Shape of Water") are the other two — who are widely known as The Three Amigos and have won the Best Director Oscar four of the past five years.  And Cuarón is likely win it again this year for "Roma."  No argument there.
That's because "Roma" is gorgeously put together in a way that no other 2018 release is likely to replicate.
Given the film's title, you might think it's about Italy's Eternal City, but Cuarón's "Roma" is actually centered in the Mexico City neighborhood in which he grew up in the early 1970s.
During that time, Mexican politics were in an upheaval, punctuated by the Corpus Christi Massacre of student protesters in 1971.  "Roma" depicts that, but from the perspective of a second-floor furniture store that overlooks the bloodshed, slightly distant but nonetheless shocking.
With his family watching above, that shot emphasizes Cuarón's emphasis in "Roma" on his family life, embodied by his family's nanny/housekeeper Cleo (Yalitza Aparicio, a Mexican preschool teacher who has delivered an unexpectedly remarkable performance).  With his busy mother Sofia (Marina de Tavira) and his largely absent father Antonio (Fernando Grediaga) a bit disengaged, young Cuarón is largely raised by Cleo, who takes on the role that a parent should step up to do — that of raising their children.
"Roma" is not exactly a plot-driven film, yet for me at least, even the most mundane household tasks in which the film's first hour dwells, is gripping.  That's how good a director Cuarón is.  And when the film's real drama appears in Hour 2, you can't take your eyes away from the screen.
Unlike the lengthy takes of "Gravity," Cuarón's style here is much more dependent on the power of his editing, which gives the film a vibrancy that provides the household scenes an energy that they might otherwise not possess.  (A running joke about how the family can't get their boat of a '70s car into their narrow garage is particularly good.)
If you're at all put off by the fact that "Roma" is filmed in black-and-white and has subtitles, don't be.  Please.
It's one of those films for which 2018 will be remembered.  Don't miss it.
GRADE: A-