DECEMBER 13, 2018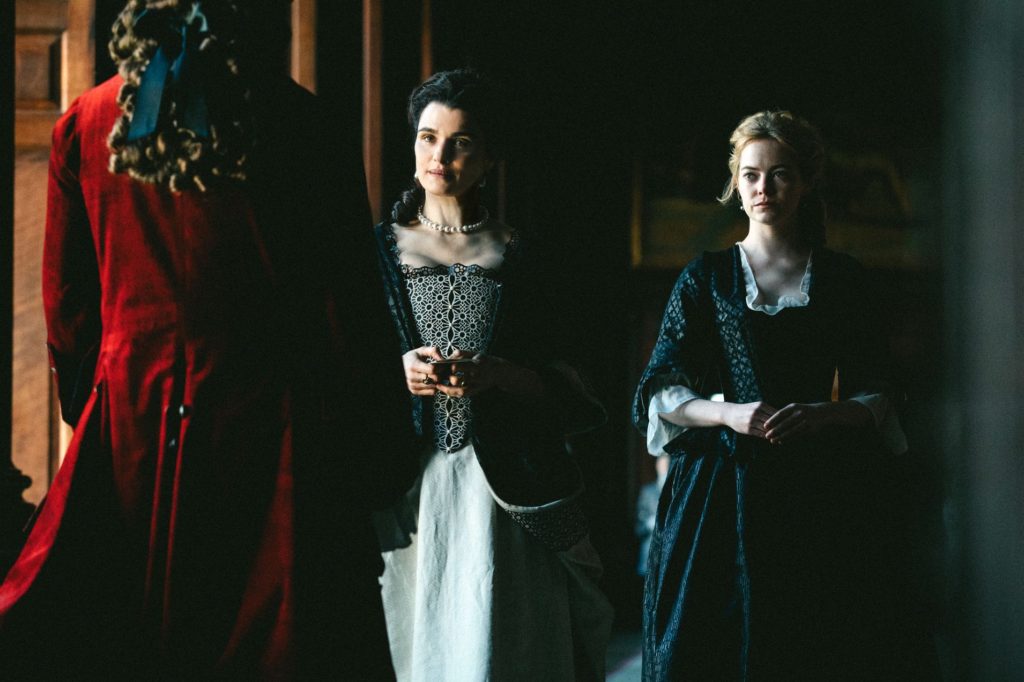 Now to catch you up on what's going on at the movies, here's ECT's guest film critic, Stefon!  So, Stefon, what's a good movie out there right now that the family can enjoy together?
"Well Tom, America's hottest movie is 'The Favourite.'  It's got everything!  Duck races, palace intrigue, a lobster competition where all the contestants get eaten.  There's pigeon shooting, hot girl-on-girl action and a naked man being pelted with blood oranges.  And there's rabbits.  Lots and lots of rabbits!"
Believe it or not, they're all really in Yorgos Lanthimos' "The Favorite," which is far and away one of the best films of the year.
How to describe this experience?  "The Favourite" is set in the early 1700s during a war that the British Empire is waging against France.  The British monarch at the time is Queen Anne (Olivia Colman), who is simply a hot mess.  She suffers from a terrible case of gout, believes that everyone in the court thinks she's fat (they're right) and has no idea what is going on in the war that she is supposed to be leading.
That final task is one she hands off to her trusted consort Sarah Churchill (Rachel Weisz), the Duchess of Marlborough, who bids farewell to her husband John ("Sherlock's" Mark Gatiss) as he heads off to a war that she herself is strategizing.  Sarah then returns to the palace to Queen Anne, who shares with Sarah her dreams, her worries and her bed.
Sarah can get away with all of this — plus devise war strategy — because clearly she is Queen Anne's "favourite."
Enter Abigail Hill (Emma Stone).
Abigail has been dealt a hard hand in life.  As a young teenager, her ne'er-do-well father handed her over to Germans in order to pay off a gambling debt, but, once she's freed from being a sex slave, Abigail hightails it to the palace to ask for a job from her cousin Sarah, who is not pleased to see her and assigns Abigail to a lowly job as a scullery maid.
For Abigail, such a position simply will not do.
So she devises a plan to get herself on the queen's radar (it works), then works her way into Sarah's good graces (which also works), and before Sarah knows it, she has a rival for being Queen Anne's favourite.
I don't know where to begin describing just how good "The Favourite" is.  If the plot sounds to you a bit like Joseph L. Mankiewicz's masterpiece, 1950's "All About Eve," you wouldn't be far off.  Once Sarah finally realizes that her exalted position is under siege by her scullery maid cousin, her claws and her wit are sharpened in a way that is reminiscent of how Bette Davis and Anne Baxter faced off in that Mankiewicz classic.
Let's start with the on-point script by Deborah Davis and Tony McNamara, which took Davis 20 years to bring to the screen, largely because no one wanted to finance a film with three women as leads.  Initially, she brought a historical perspective to the script, but when it was brought to Lanthimos, they worked together to bring the screenplay to a more outrageous place.
Then there's Yorgos Lanthimos.  The Greek director is little known to the American public (for the moment), but he has become in the last decade an Oscar favorite.  His 2009 "Dogtooth" earned an unexpected Oscar nomination as Best Foreign Language film and his 2015 film "The Lobster," which I had picked as one of the 10 best films of that year, earned him a second Oscar nod for the year's Best Original Screenplay.
There's no one making movies quite like Lanthimos, as his world view is ever-so-slightly askew from what other filmmakers seem to be doing.  So when he meets up with a genre with strict conventions, such as the corset costume drama, Lanthimos' instinct is to blow them up with an anarchic approach that takes on other traditional costume dramas (such as the current "Mary Queen of Scots") and cuts them off at the knees. 
Of course, "The Favourite," with its emphasis on three very different women, could never work unless it was properly cast.  And is it ever here!
The first thing you do is hire two Academy Award winners as the rivals.
Weitz's Sarah is sharply defined by the complexity of the character.  Her consort brings the same nose-to-the-grindstone approach to wooing Queen Anne as she does to planning a battle, and those tactics have brought her abundant success.  The only drawback to her diligent approach to remaining the favourite is that it keeps her from seeing the interloper (Abigail) who is coming up fast on the outside.
With an English accent that is flawless to my untrained ears, Stone portrays Abigail as somewhat of an outsider, utilizing the survival skills that helped her get through her earlier life that allows her to claw her way up the royal ladder to become one of Queen Anne's most loyal confidants.  Or is she?  Both women are sensational and will likely show up as Oscar nominees.
The big question is who to cast in the key role as Queen Anne?  Lanthimos rolled the dice and came up with a winner in esteemed British actress Olivia Colman, who will soon replace Claire Foy as the elder Queen Elizabeth in Netflix's "The Crown."  The role of Queen Anne is like walking a tightrope, with appearing dotty at one moment and then fearlessly flexing one's regal power the next.  Colman rises to the challenge magnificently in one of the year's truly great performances.
My only quibble with the film is that the plot dictates that Weisz's Sarah be absent from the story through some of Act 3, and since the crackling tension that drives her scenes with both Colman and Stone provide some of the film's most exciting moments, that drama is missed when her character is away.
Still, the shifts in tone (sometimes even within a scene) can be breathtaking in their audacity.  For example, an intensely dramatic moment may be happening in the foreground while the Queen's 17 rabbits scamper about in the background.  You can't help but laugh at the sight, but when you learn just why Queen Anne has exactly seventeen rabbits, suddenly the laughs begin to catch in your throat.
"The Favourite" has a funny yet gripping storyline that is both unexpected and outrageous, and it's a film that's not to be missed.
GRADE: A-