APRIL 16, 2019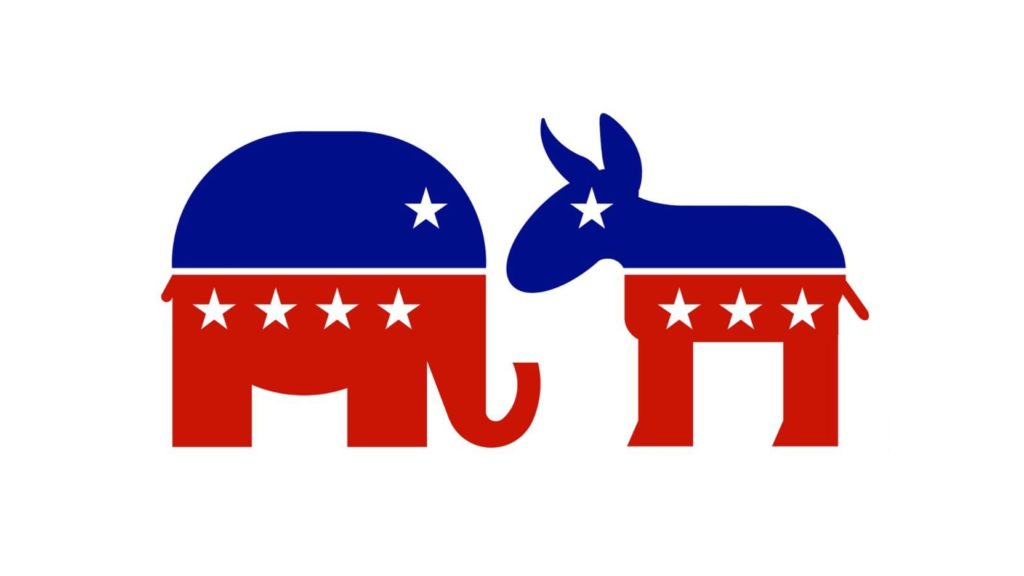 Starting today, Exact Change Today will begin turning periodically to politics as we inaugurate ECT's quadrennial look at the race for President.
Today we're turning to the ever-growing, ever-chaotic race for the Democratic nomination, and with our 17th and 18th candidates finally making it official this weekend, the field is almost set in place.  But there's one spirit still waiting in the wings — it's the star of our favorite play, "Waiting for Joe."  Let's just assume for this exercise that former Vice President Joe Biden is in, which would us a field of 19 to sort out.
When I haven't been writing about movies here or blathering on audio podcasts about the Oscars, I've been watching closely two factors in this race the last few weeks — who's raising the most money (key to staying in the race when the inevitable speedbumps occur) and who's rising in the polls in the first two voting states (Iowa and New Hampshire) that is important for starting momentum.
I will grant you that setting odds over 18 months before the 2020 election is almost bound to be wrong — at this time in 2015, we would have had GOP nominee Jeb Bush and, on the Democratic side, Bernie Sanders was about to get blown out of the water by Hillary Clinton.  Neither of course happened, but so ranking the candidates now is clearly a fool's errand.  And I'm just the fool to do it.
Using the factors listed above, I've divided the candidates into three separate tiers, and this evaluation is based solely on that data (and my hunches) on April 16.  These rankings are bound to shift — there's a looooong way to go — but as of today, this is how I rank the field.
TOP TIER
1.  JOE BIDEN — Biden's campaign-to-be got off to a rocky start with the accusations of unwelcome touching of women, which plays into Biden's greatest weakness — that he is perceived as a candidate of the 20th century who is out of touch with where the progressive Democratic base is today.    Still, if the Democrats' ultimate goal is to see the Trump family gone from the White House, at this moment, Biden is likely the only candidate who can turn those rust-belt states that flipped to Trump in 2016 back to blue.  And that worries Trump, as it should.
2.  BERNIE SANDERS — Among the announced candidates, Sanders has far and away garnered the most contributions — in the first quarter he received $18.2 million (with $5.9 million donated within the first 24 hours of his announcement) from over 900,000 donors.  He's still getting huge crowds at his rallies, but unlike last time where he could claim the mantle of being the progressive candidate all to himself, that title is now shared by a number of other candidates in the race.  And while he's currently second in polls in Iowa and New Hampshire, in both states his numbers are closer to third-place Pete Buttigieg than they are to the leader, Joe Biden.
3.  PETE BUTTIGIEG — Mayor Pete of South Bend, IN was merely an asterisk in the polls six weeks ago, but voters saw him over-perform in one-on-one interviews and televised town halls, and suddenly his poll numbers soared.  He is solidly in third place in Iowa and New Hampshire, and he earned $7 million in donations, most of which came when he was still an asterisk.  Until Sunday, he had never been tested with electrifying a large crowd, but at his announcement speech this weekend, he more than passed that test.  Although he needs to keep an eye on not becoming merely the flavor of the month, the fact that this mayor has worked himself up to the top tier in this race is a remarkable achievement.
4.  KAMALA HARRIS — The final three in the Top Tier are all pretty bunched together, but I'm giving fourth for the moment to Sen. Harris.  Her announcement rally was arguably the most impressive of the bunch, and her first quarter contribution haul was a big $12 million, second only to Sanders.  She's currently tied for fourth in Iowa and running fifth in New Hampshire.  Her real path to the nomination begins in California on March 3 (Super Tuesday), where if she wins, she would earn a boatload of delegates that could propel her to a win in South Carolina.  The problem may be that, according to the Field Poll, she is currently running third in her home state.  If that holds, she will still get a load of delegates, but that could hamper her momentum heading into South Carolina.
5.  ELIZABETH WARREN — As 2019 began, I would have definitely put Sen. Warren in the Top Three, but, let's face it, the way she went for Trump's bait in the Pocahontas DNA affair really raised questions among some Democrats as to how effective she could be in taking on Trump in the general.  Still, she is the candidate with the most specific economic ideas and as long as the campaign is confined to issues, she is one of the most eloquent in the field.  But with Trump, it won't be.  Warren is running a strong fourth in New Hampshire and tied with Harris for fourth in Iowa, but her first-quarter money haul was less than that for the lesser-known Buttigieg.
6.  BETO O'ROURKE — After a spectacular start, Beto-Mania has clearly subsided, and his poll numbers have accordingly returned to earth.  Now O'Rourke can settle in while keeping his eyes on the big prize.  The rap against O'Rourke is that he's a feel-good candidate who has yet to specify what he would actually do as President, particularly compared to such other candidates as Sen Warren.  He's currently running a not-great sixth in both Iowa and New Hampshire, but while his $9.4 million haul in the first quarter ranks him third behind Sanders and Harris, O'Rourke managed to raise that in only 18 days, compared to a full quarter for some of his rivals.  If he can clarify several of his issue statements, he could go the distance in this campaign?
MIDDLE TIER
7.  CORY BOOKER — Why isn't Sen. Booker in the top tier?  After all, as both a mayor and a senator, he has both managerial and legislative experience and has so far waged a passionately positive campaign, which is what voters claim that they want.  But he's running only 6th or 7th in the first two states, and his first quarter fundraising was a lackluster $5 million, behind rival Sen. Amy Klobichar.  Anyone who has ever seen him question witnesses in Senate hearings know that he does have a fire in his belly, and many Democrats have been waiting for him to turn that on Trump.  It's early yet, but Booker needs to start to make a move soon.
8.  AMY KLOBICHAR — The Minnesota senator has been making the cable news rounds over the last year or so, demonstrating both a detailed grasp of policy and an appealing personality that could provide a marked contrast to Trump.  Her numbers are comparable with Booker's, running 6 or 7th in the first two states and garnering an even better $5.2 million in campaign contributions.  One problem is that she has been dogged by accusations from former staff that she is a tyrannical boss, which seems counter to her public persona.  Her responses to the charge are dismissive, saying that she only wants the best from her staff.  But will this image keep primary voters from checking off her name?
9.  KIRSTEN GILLIBRAND — The senator from New York began her career as a conservative Democrat, but she eventually shifted leftward, and once in the Senate, she put a much-needed spotlight on the problem of sexual assault in the military.  She announced her candidacy at a rally outside of a Trump hotel, but since then, she has kept to lower-profile meetings with voters at which many say she is most effective.  Yet, she is barely registering among voters in the first two states, and her first-quarter fundraising was only $3 million, a low number which her staff has attributed to lingering anger by some Democratic donors about her role in forcing Al Franken out of the Senate after sexual accusations.  How Gillibrand chooses to handle that anger may well determine the fate of her candidacy.
10.  JULIÁN CASTRO — The other candidate from Texas is only 44 years old yet has already served as Mayor of San Antonio and HUD Secretary in Barack Obama's cabinet, and if elected, he would become the nation's first Latino President.  His policies are progressive down the line, which would be acceptable to the Democratic base, but his speaking style is so low-key that when he addresses voters that he can at times seem to fade into the background.  With raising only $1.1 million in the first quarter and low polling numbers, the window for Castro to begin to make an impression is slowly closing.
11.  ANDREW YANG — "Who?," you might be asking.  Yang is a businessman with a huge online presence and is the founder of Venture for America, an organization devoted to revitalizing American cities through entrepreneurship.  A very commendable goal, but how does that qualify him to be President of the United States?  It doesn't, of course, and Yang may be one of those running just to raise his profile and his speaking fees.  He's listed here , however, because Yang has qualified to be on the same debate stage as Biden and Sanders, having received contributions from 65,000 unique donors, more than enough to meet the debate criteria.
THE OTHERS
Gov. Jay Inslee (D-WA), whose campaign will center around climate change and the environment.
Rep. Eric Swalwell (D-CA), whose primary issue will be gun control.  Inslee and Swalwell are both regulars on cable news, so they have more name recognition than the rest.
Rep. Tulsi Gabbard (D-HI), who once worked for an anti-marriage equality organization which also promoted controversial conversion therapy.  She swears she is now pro-gay marriage.  Thanks for playing, Tulsi, and don't let the door hit you on the way out.
Rep. John Delaney (D-MD), who says he is for on 21st century jobs, education, veterans issues, and infrastructure.  Just like every other candidate.
Rep. Tim Ryan (D-OH), who is primarily known to Democrats as the man who tried to stage a coup against Nancy Pelosi.  That should go over well on the campaign trail.
Gov. John Hickenlooper (CO), whose campaign focus will be on the homeless, which might be better served by being Governor rather than being President.
Marianne Williamson, a best-selling author and activist, who founded Project Angel Food, a food charity that was established to serve meals to HIV patients but now has broadened to serve the L.A. community.
Mayor Wayne Messam of Miramar FL, whose primary campaign focus is to cancel all student loan debt.
Barring some last-minute entrant, there's your Democratic field.  No problem with diversity among the Democratic contenders, with six women, three African-Americans and a gay man (Buttigieg) in the mix.
If you can believe it, it's only a little more than two months until the first Democratic debate, and there will probably be more than a few curveballs thrown at these candidates before then, and ECT will be there to cover it. In the coming weeks, we'll take more in-depth looks at the policies of the leading candidates and how they stack up not only against one another but against President Trump.
Buckle up.  It's going to be a wild ride.