APRIL 22, 2019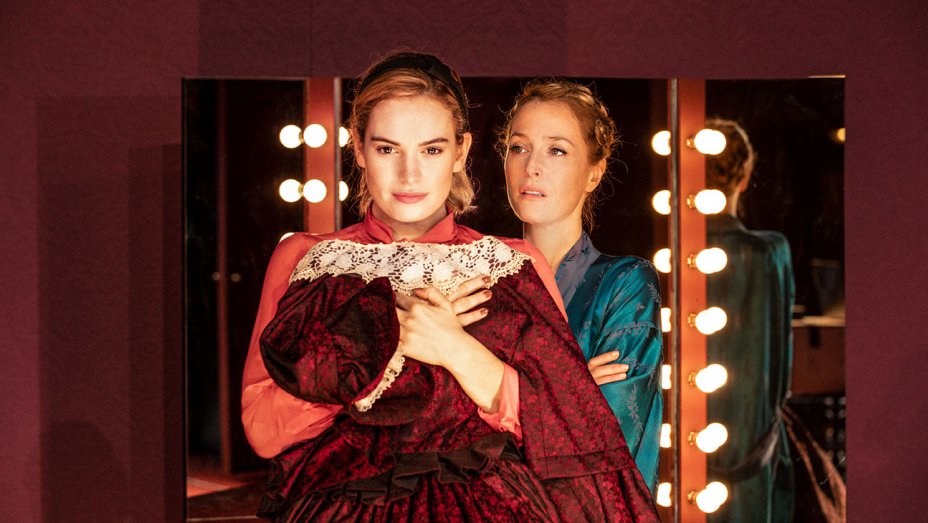 For the past decade, one of Britain's greatest exports has been National Theatre Live, a program that telecasts productions, often live, as they are being performed either at London's National Theatre or at various theaters in the West End.  In recent years, they've offered James Corden's Tony-winning performance in "One Man, Two Guvnors," Andrew Garfield and Nathan Lane's Tony-winning performance in "Angels in America," Benedict Cumberbatch in "Hamlet" and Helen Mirren's Tony-winning performance as Queen Elizabeth II in "The Audience," all beamed by satellite to your local movie theater.  Beats the cost of a plane ride to Broadway or London.
Their offering this month is the first-ever stage production of Joseph L. Mankiewicz's classic "All About Eve," currently playing to packed houses at the Noel Coward Theatre in London.  The production was originally set to star Cate Blanchett, but when she was forced to drop out due to scheduling conflicts, Gillian Anderson stepped in to try to fill those very large pumps.
You all know the story by now.  Broadway legend (and she knows it) Margo Channing (Anderson) is starring on Broadway in "Aged in Wood," the latest play by Lloyd Richards (Rhashan Stone), directed by Margo's lover Bill Sampson (Julian Ovenden).  One night, Lloyd's wife Karen (Olivier Award-winner Monica Dolan) takes pity on a young girl, Eve Harrington (Lily James) who has been hovering around the stage door and takes her inside to meet her idol Margo.  Improbably, Margo and Eve hit it off, and soon Eve has moved in to become a part of Team Margo.  For a while.
This production of "All About Eve" was helmed by Belgian director Ivo von Hove, who has become a master of taking cherished texts and reimagining them.  He uses bare stages here with furniture being moved in and out, but the Mankiewicz text is largely the same.  His one big coup de théâtre is his use of video cameras.  Theatre critic Addison DeWitt (Stanley Townsend) gives us a backstage look at the top of the play in a single continuing Steadicam movement.  And at two points, von Hove uses TV to reveal character points — once, after her "bumpy night" party, Margo looks into the mirror and sees herself aging into an 80 year-old crone.  And in the play's conclusion, Phoebe, a young black teenage fan of Eve, looks into the mirror and sees herself growing into a ravishing beauty as an adult.
Anderson is fine as Margo, but it doesn't seem like a natural fit, as she eschews the enormous theatricality that Davis brought to the role.  More importantly, Anderson lacks the desperation at keeping one's youth that Davis so emotionally conveyed.  Townsend is just OK as Addison DeWitt (if you haven't seen the original film, think of Jeremy Irons as Scar in "The Lion King," and that's how George Sanders played his Oscar-winning role).  Townsend is more of a bellower than Sanders' much more sly delivery, and much is lost with that approach.
Ovenden makes for a plausible Bill Sampson, but Stone is particularly listless as playwright Lloyd Richards, although as Lloyd's wife Karen, Dolan is totally worthy of her Olivier Award as the heart and soul of the production.
The big surprise of this "All About Eve," however, is the powerful performance of James as Eve.  She has given particularly strong performances on television in "Downton Abbey" and on film in Disney's "Cinderella" and last summer's "Mamma Mia: Here We Go Again," and here she turns the Anne Baxter-nominated performance on its head as an entirely open Eve Harrington…until she is not.
"All About Eve" will be playing throughout the spring and early summer, so to see if it is playing at a theater near you, just click on http://ntlive.nationaltheatre.org.uk/productions/ntlout34-all-about-eve. There are some really good elements to this "All About Eve," but if you're looking for the entire package, however, I'd recommend just popping in your DVD of the film and luxuriate.
GRADE: B