OCTOBER 16, 2019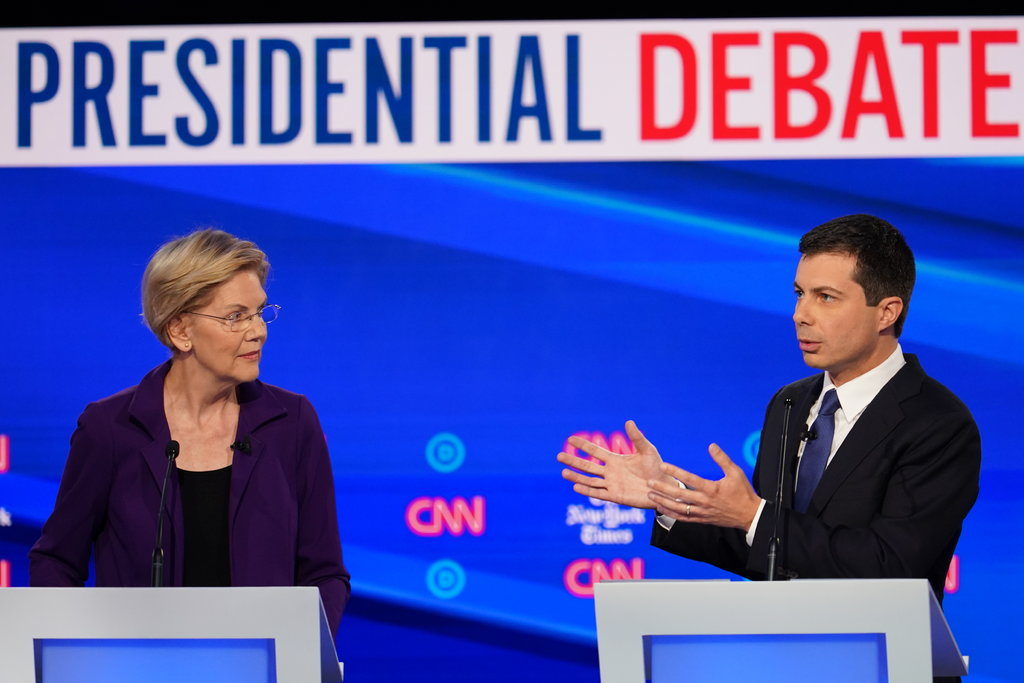 Photo: The New York Times
An unexpected visitor showed up at Tuesday night's CNN/New York Times Democratic Presidential Debate: substance.
The three-hour debate, which took place in suburban Columbus Ohio, was blessedly free of the canned quips and lame one-liners of the previous three debates.  Instead, it seemed that the start of the Trump impeachment inquiry has brought home the seriousness of what the country is dealing with here, and the candidates (for the most part) responded in kind.  (But a plea to the Democratic National Committee: please tighten up the qualifications for candidates to make the stage for upcoming debates even more, because 12 people onstage is simply too many and took valuable time from the more substantive candidates.)
If there was any doubt as to who the new front-runner in the race might be, it was obvious by the incoming she took that it is Elizabeth Warren.  Joe Biden, who had led the race from its inception, was virtually ignored by his rivals and, as a result had far less speaking time in this debate compared with many of the others.  Most of the major candidates seemed to want to get down to business, so let's take a moment to look back at Tuesday night's debate winners and losers.
WINNERS:
ELIZABETH WARREN — After three debates where she flew under the radar when Joe Biden was the target of those onstage, Warren got the treatment on Tuesday that the front-runner always seems to get.  Clearly, she appeared unprepared for the volume of criticism that she received, particularly to her unwillingness to reveal whether she would raise taxes on the middle class in order to pay for her trillion-dollar "Medicare For All" plan.  She'd better get used to it, because for as long as she continues to top the popularity polls, the target on her back will stay put.  Still, she didn't melt down or make any serious mistakes, so it's a win for her.
PETE BUTTIGIEG — The South Bend mayor turned in his strongest debate yet as he led the takedown of Warren's refusal to disclose the funding for her health care plan, as well as correcting fellow veteran Tulsi Gabbard's description of the Syrian War against the Kurds as a "regime change war."  Buttigieg's strong salvo was well timed — as Joe Biden may be beginning to fade as the leader in the moderate lane of the party, those voters may be looking around for a possible replacement, and Pugilistic Pete might be just whom they're looking for.
AMY KLOBUCHAR — With her polls still hovering around 2%, the Minnesota senator needed a breakout moment, and she wound up having a breakout debate.  Whereas in the past, she tried to look relevant by interrupting, a strategy that largely backfired, on Tuesday, her arguments were well thought out and strongly delivered, which may also bring attention to her from moderate voters.  The problem for Klobuchar in the near future is that Buttigieg is also working the moderate lane and has already qualified for the November debate, but she hasn't yet, though there's still time.  This performance should help.
BERNIE SANDERS — Bernie is back.  Many political observers were concerned that, at age 78, Sanders would be sidelined for a lengthy time after his recent heart attack.  But he returned to the debate stage looking none the worse for wear, and he even improved his delivery behind the podium.  Yes, he still brought a robust enthusiasm to all of his answers, but his penchant to yell has been dialed way back (at least for now), which has made his delivery much more palatable.  He still faces the problem of his friend Elizabeth Warren peeling away some members of his base, but at least he quelled speculation on Tuesday about the state of his heart.
LOSERS:
JOE BIDEN — As a Joe Biden fan, it kills me to say it, but, with his falling poll numbers, he needed a stellar night to help stop the bleeding, and he didn't get it.  Part of this was not his fault.  Relatively few questions were directed at him by the moderators, and he wasn't the target of other candidates to whom he could respond.  He did what he could to defend his son's involvement with Ukraine but missed the chance to hit Trump hard on the profiteering of his own children.  The trouble for Biden is that his trajectory is downward, and he is not nearly raising the kind of dollars that Sanders and Buttigieg are amassing, so, unless he fixes something fast, it's likely to continue that way.
THE 2 PERCENTERS — Except for Amy Klobuchar, the other candidates that are hovering around 2% in the polls needed a breakout night, and none of them got it.  Rep. Tulsi Gabbard thought she was on to something when she kept (incorrectly) kept referring to the fight in Syria as a "regime change war."  Beto O'Rourke, who has been great on the stump regarding gun control, urged his opponents to have his courage in taking citizens' automatic weapons.  Both were slapped down hard by Buttigieg, particularly O'Rourke, who was told by the Navy veteran "I don't need lessons from you in courage." Billionaire Tom Steyer, making his first appearance on a debate stage, made little impression and Julián Castro seems to have lost any momentum he built up in the previous debates.  All but Steyer (who has already qualified) will struggle to clear the higher bar needed to make the November debate stage.
Speaking of that debate, the fifth get-together, sponsored by MSNBC and The Washington Post, will be held in the Atlanta area on Wednesday, November 20.  As always, be there or be square!