AUGUST 27, 2020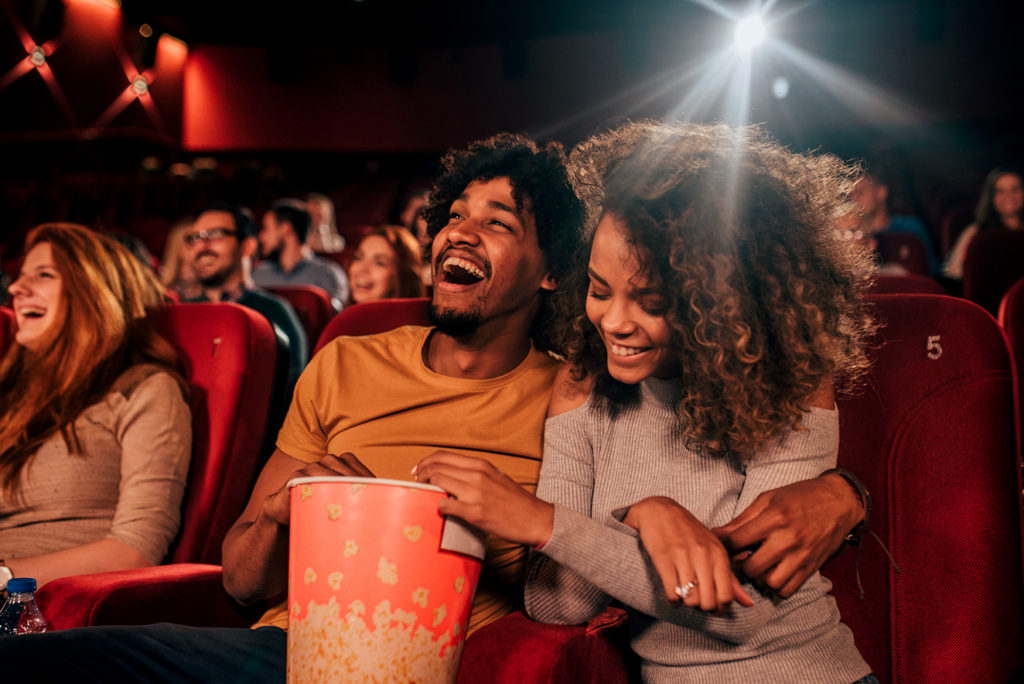 I know that the question may sound preposterous, but as the pandemic rolls on with theaters only beginning to open, decisions will have to be made as to just what kinds of films will be enticing enough for moviegoers leave the safety of their homes to chance sitting in a socially-distanced movie theater for two hours. To no one's surprise, the initial consensus is that only such pre-sold blockbusters such as the soon-to-open "Tenet" or "Wonder Woman 1984" would offer a lure so irresistible to moviegoers that butts would soon fill completely-sanitized theater seats. But what of the other films — the mid-level kids movies, horror films or serious dramas? I fear that the necessity this spring and summer of moving these kinds of films to streaming could become the rule rather than the exception.
Alas, the genre that I suspect will be most impacted by the tentative and limited return to movie theaters will be the film comedy. Last summer, even with a robust box-office in 2019, three critically-acclaimed, very funny comedies ("Long Shot," "Late Night" and "Booksmart," to be specific) all tanked at the box-office within one month's time.  Now, I'm concerned that top-flight comedies this year won't even get a chance at the box-office at all. Yes, moviegoers can still get some laughs by a few well-placed jokes in a kids film or horror movie, but sadly among full-fledged comedies last year, the biggest grossing film was "The Upside," clocking in at only 27th place among all 2019 releases. I'm afraid that we may not get a comedy that will be ranked even that high this year.
After "Trolls World Tour" busted the dam open by cancelling its theatrical opening and going instead to Premium Video-On-Demand (PVOD) in April, the comedies soon followed.  First up was "The Lovebirds," the Issa Rae/Kumail Nanjiani comedy that Paramount sold to Netflix in May. Quickly following among others were Judd Apatow's "The King of Staten Island" which Universal sent directly to PVOD, Seth Rogen's "An American Pickle," which Sony sold to HBO Max and "Bill and Ted Face the Music," which United Artists will send to theaters and PVOD tomorrow. No knock on these films, but none had the likely potential to be an enormous box-office blockbuster.
But what if a possible comedy blockbuster is actually sent to streaming, as Disney has done with its action film "Mulan," which will now play on Disney+? That question has been raised recently on Twitter, centering on "Coming 2 America," the Craig Brewer-directed sequel to the 1988 Eddie Murphy film which grossed over $300 million worldwide. Paramount plans to release the film on December 18 in theaters, but should the autumn reopening of theaters be jeopardized by a second wave of the virus, would Paramount consider finding distribution on a streaming service instead of playing in theaters? It does, after all, have a relationship with Netflix, to which the studio has already sold "The Lovebirds" and "The Trial of the Chicago 7."
Of course, if a potential hit like "Coming 2 America" goes to a streaming service, it's not the end of the world, and a few comedies will certainly return to theaters. But if this quarantine year serves to reinforce the idea that comedies are something that you can sit back at home to enjoy, some part of the joy of watching a comedy in a theater will be reduced. For me at least, there have been few moviegoing experiences that can compare with sitting in a packed house with audiences laughing themselves silly at "Airplane!" or "Blazing Saddles."  That kind of experience really can't happen at home the same way, and I miss it. Even as the pandemic forces some theaters to remain closed for the next few weeks, I look forward to being able to sit safely in a theater seat and laugh my butt off at a wonderful film comedy.
Portions of this article previously appeared at Next Best Picture.