APRIL 6, 2021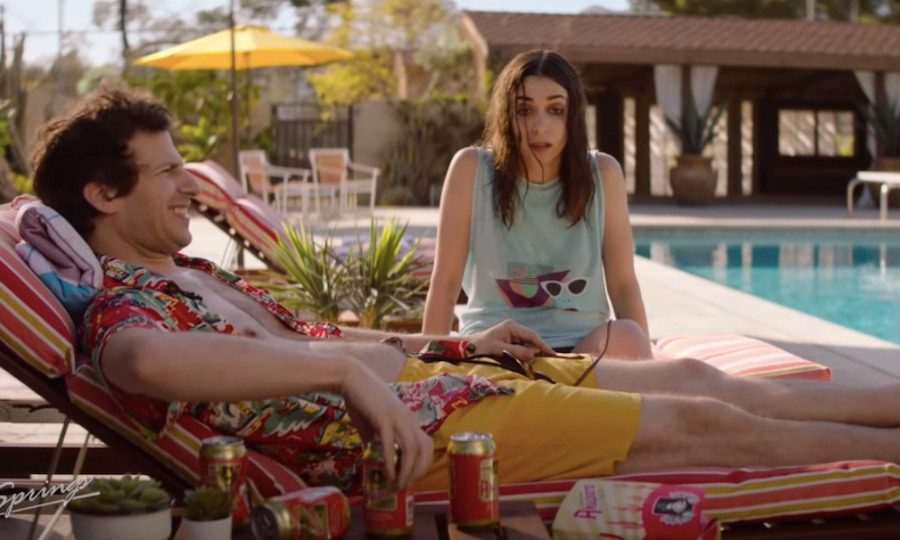 When the expected big guns of the 2020 Oscar race ("Dune," "The French Dispatch," & "West Side Story," just to name a few) were hustled off to late 2021 so that they could have a splashy post-COVID run in theaters, these words began to appear from #FilmTwitter about the films that remained to duke it out in the race for the 2020 Oscars:
"…scraps…"
"…leftovers…"
"…the B-team…"
Well, honey, if the films of 2020 are the B-team, I'll gladly take these scraps and leftovers any day of the week. In fact, there were so many standout films onscreen this year that I couldn't limit my list to simply ten titles, so I'd like to offer a "20 Best of 2020" with these first ten titles serving as more-than-worthy runners-up to the Top 10. And just look at the variety of subjects that these 20 films tackled: From a Korean-American family in Arkansas to life among American nomads on the road, and from stellar film adaptations of three celebrated plays to an unexpected thriller with an ending that no one saw coming. Perhaps most surprising of all, seven of these Top 20 films were made by first-time directors, an impressive number that bodes well for outstanding work from them in years to come.
So let's get started…
20. BIRDS OF PREY (AND THE FANTABULOUS EMANCIPATION OF ONE HARLEY QUINN)
Released in theaters just before the pandemic hit, "Birds of Prey" was a film I successfully avoided seeing for months. After all, I'm not exactly a DC Comics fan, and the last thing I wanted to see was a stand-alone film focusing on a character from the execrable "Suicide Squad." I finally gave in, and I'm so glad that I did. As Harley, the spurned ex of The Joker, the vastly underrated Margot Robbie exudes such enormous joy on the mayhem that she (and her small army of female superheroes) inflicts on the hoods (Ewan McGregor, Chris Messina) who are out to get her that the audience can't help but go along for the giddy ride. "Birds of Prey" provided something I never thought I'd ever see: a film filled with joy in the otherwise somber DC Comics Universe – and for that, it should be celebrated.
"Birds of Prey" is now streaming on HBO Max.
19. MISS JUNETEENTH
Channing Godfrey Peoples' impressive debut as writer-director, "Miss Juneteenth" is a tender mother-daughter story set in the whirlwind of a Miss Juneteenth scholarship pageant in a small Texas suburb. Many years ago, Turquoise Jones (Nicole Beharie) won the coveted Miss Juneteenth crown but had to forgo her college plans when she became a single mother with her daughter, Kai (Alexis Chikaeze). Now that Kai is a teen, Turquoise wants Kai to get the same educational opportunity that she couldn't have, so she enters her into the local pageant, but Kai is less than willing to live her own life just to realize her mother's thwarted dreams. Who finally wins the pageant is irrelevant. What Peoples rightfully finds essential are both the strains that can occur in a mother-daughter relationship and the bonds of love that can grow from them. It's an insight beautifully told here.
"Miss Juneteenth" is now streaming on BET+ and is available on pay per view.
18. ANOTHER ROUND
Director Thomas Vinterberg takes on the male middle-age malaise in "Another Round," an acclaimed comedy-drama that reunites him with his "The Hunt" star Mads Mikkelsen, who plays one of four forty-something high school teachers who, realizing that they've lost a step in their swagger, seize upon an obscure theory that everyone needs a bit of alcohol every workday to improve their performance. To their surprise, it works, so it stands to reason that upping their daily intake would make their lives better, right? You probably can guess the answer. While Oscar nominee Vinterberg has fun popping men's over-inflated egos, Mikkelsen is delivering a subtly layered performance as a man who has come to realize that his most productive days may be behind him unless he does something about it now.
"Another Round" is now streaming on Hulu.
17. PALM SPRINGS
This time-loop romantic comedy might look like "Groundhog Day" in its structure, which is a unique mashup of science-fiction, social satire, and absurdist humor. Still, first-time director Max Barbakow and writer Andy Siara are after something very different. For what could have been a hodge-podge of genres simply thrown together, "Palm Springs" somehow manages to blend these disparate ingredients into a blend that has such a smooth flow that you hardly notice that you're slipping between one genre and another. Of course, when you have romantic leads such as Andy Samberg (who actually displays a surprising bit of gravitas here) and Cristin Milioti (in one of the year's breakout performances) on full display here, it helps. But Barbakow and Siara have taken the tired genre of the rom-com and infused it with contemporary energy that could show other filmmakers how to make rom-coms relevant again.
"Palm Springs" is now streaming on Hulu.
16. THE TRIAL OF THE CHICAGO 7
I think that "The Trial of the Chicago 7" is getting a bum rap. Although far from my favorite among this year's Best Picture nominees, Aaron Sorkin's retelling of one of the most carnival-like trials in the history of American jurisprudence plays to the strengths of Sorkin the writer – politics and the legal system. In fact, "The Trial of the Chicago 7" fits very snugly into the genre of courtroom dramas where Sorkin has found previous success with "A Few Good Men" and "The Social Network." What he manages to do here (with the help of an A-list ensemble cast) is make sense of the people beneath the mayhem, individualizing both the strengths and weaknesses of the large number of characters involved that few films have managed this year. Yes, "The Trial of the Chicago 7" is conventional studio filmmaking in the vein of "Argo" and "Spotlight," but that shouldn't be seen as a negative. There's a place for good stories well told, and "The Trial of the Chicago 7" is the most celebrated example of that this year.
"The Trial of the Chicago 7" is now streaming on Netflix.
15. COLLECTIVE
In a year filled with great documentaries, "Collective" was easily the one that held me most firmly in its grip. A group of intrepid journalists from, of all places, a sports newspaper in Romania, began an investigation into a 2015 fire at the nightclub Colectiv, in which 37 people lost their lives. Filmmaker Alexander Nanau followed the reporters as they began to dig one shocking fact after another as to how the victims died, a discovery that leads to a governmental scandal and the suspected suicide of a major player in the case. I'm particularly drawn to documentaries in which the subjects don't know what they don't know, and we discover that truth at the same time they do. In the process of illustrating just how government bureaucracies can cost innocent lives, "Collective" manages to tell a story that is as gripping as that of any thriller. And it all really happened.
"Collective" is now streaming on Hulu.
14. SUPERNOVA
In what seems like a long line of films about mental decline, writer-director Harry McQueen's "Supernova" offers a most unique take in tackling the subject: Through the eyes of a longtime gay couple who are taking one last road trip around England to see (and say goodbye to) family and friends. In a beautiful short story of a film, concert pianist Sam (Colin Firth) and novelist Tucker (Stanley Tucci), who have been together for decades, must grapple with the fact that Tucker, who has been diagnosed with early-onset dementia, will soon lose control of his mental faculties and that Sam will lose the brightness and wit of the man whom he has loved for over two decades. The trip, of course, isn't the point of "Supernova," it's merely the vehicle (so to speak) for these two men to express what they mean to one another. Yes, the set-up can be sentimental at times, but McQueen has an unerring ear for dialogue that cuts right through it. He captures the way couples really speak, particularly gay couples, and it's that queer sensibility that helps to make "Supernova" so much more than your standard disease-of-the-week movie.
"Supernova" is now showing in theaters and is streaming on pay-per-view.
13. ONE NIGHT IN MIAMI…
Oscar-winning actress Regina King makes an impressive debut in the director's chair with "One Night in Miami…," an adaptation of the stage play by Kemp Powers (who also scripted) that poses a fascinating "what if?" query. What if African-American icons Malcolm X (Kingsley Ben-Adir), Jim Brown (Aldis Hodge), Sam Cooke (Leslie Odom, Jr.), and Cassius Clay (Eli Goree) all met in a Miami motel room right after Clay's 1964 upset victory over Sonny Liston for the heavyweight championship? In Powers' eyes, these are four men who are very aware of their status in the African-American community and are not afraid to express themselves – from what they think of each other to debating the responsibility a Black man has in helping his community advance. The subject matter can be heavy at times, but Powers' dialogue is crackling, brought to life by King's focused direction of a powerful ensemble.
"One Night in Miami…" is now streaming on Amazon Prime.
12. SOUL
Soul means much more than music to jazz musician Joe Gardner (voiced by Jamie Foxx) after he suffers an accident that sends him to the Great Beyond. Desperate to return to Earth, Joe finds a loophole in his voyage there and finds himself in the Great Before, where babies are given traits before their journey to Earth. There he meets and becomes a mentor to 22 (Tina Fey), a shapeless being who resists coming to Earth just as Joe is determined to get back to it. Just as in his superb "Inside Out," co-writer and director Pete Docter, with an able assist by playwright Kemp Powers ("One Night in Miami…") & Mike Jones, nimbly juggles huge existential themes with music, slapstick, and colorful imagery in "Soul" that may make you realize only later that you've learned something new about the human condition.
"Soul" is now streaming on Disney+.
11. I CARE A LOT
Each year, there is at least one film that's both enormously accomplished while still being just a nasty piece of work. Last season, it was Ryan Johnson's "Knives Out," but this year, the crown easily goes to J Blakeson's dryly-titled "I Care a Lot." Though it deals with the serious topic of exploitation of seniors in nursing homes, this tasty morsel is really about awful people doing awful things to one another – and I love it. Marla Grayson (Rosamund Pike, who won a Golden Globe for her performance) is a high-class grifter who, with the help of her girlfriend, a corrupt doctor and a dimwitted judge, finds perfectly capable seniors, institutionalizes them, then pockets their worldly goods. She finds a perfect candidate in Jennifer Peterson (Dianne Wiest), a wealthy senior with no family – a cherry ready to be picked. What Marla soon learns, however, is that Jennifer has a son, Roman (Peter Dinklage), a crime kingpin in the Russian Mafia who will stop at nothing to get his mother back. This tone of black comedy can be enormously tricky to pull off, but on those rare occasions when a film can do it, as it does here, the results can be scrumptious.
"I Care a Lot" is now streaming on Netflix.
But we're only just getting started. Come on back tomorrow for my list of the 10 best films of 2020.
This article originally appeared at Next Best Picture.