JANUARY 20, 2021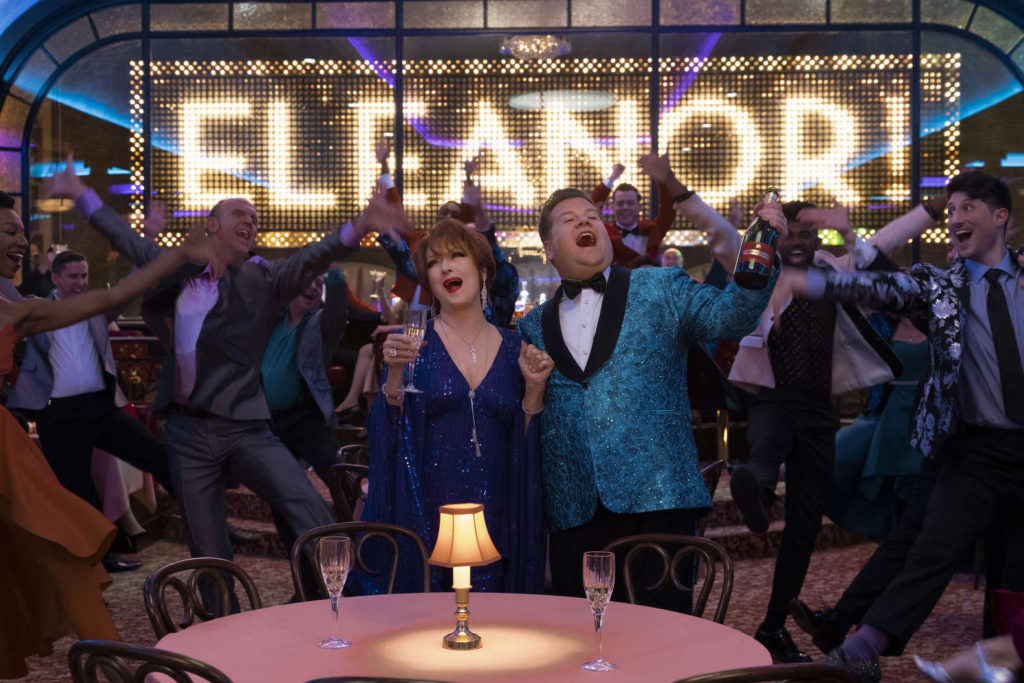 When "The Prom" first opened on Broadway in 2018 with little advance ticket sales and stars who were hardly household names, the show was referred to by many as "the little show that could," and that little show soon began to thrive with great word-of-mouth from audiences, as well as seven Tony Award nominations.
Well, "The Prom" is now a great big Netflix film populated by genuine movie stars and a big approach to the material by director Ryan Murphy, an approach that's not always to the story's benefit.
It's opening night on Broadway for the street's newest show, "Eleanor!," a musical biography of Eleanor Roosevelt, who is described by the show's star Dee Dee Allen (Meryl Streep) as "a brave powerful charismatic woman whom no one had ever heard of." Dee Dee and her equally diva-ish co-star Barry Glickman (James Corden) are convinced that they have a smash hit on their hands, but The New York Times quickly weighs in with a blistering pan that will not only close the show that night but could ruin the careers of its narcissistic stars.
Desperate for a quick reputation makeover, the pair, along with perpetual chorus girl Angie (Nicole Kidman) and between-jobs actor Trent (Andrew Rannells), latch onto the plight of Emma Nolan (Jo Ellen Pellman), a young Indiana lesbian whose high school's PTA has voted to cancel the school prom rather than allow Emma to bring her girlfriend as her date.
Swooping into the town of Edgewater as self-proclaimed "liberals from Broadway," the quartet soon learns that their brand of high-minded divadom doesn't really fly with the locals, so they have to think of a Plan B to give Emma the kind of support that she needs. Enter the school's sympathetic principal Mr. Hawkins (Keegan-Michael Key) who is that rare bird — a straight man who loves musical comedy and has been a long-time fan of Dee Dee — and together they hatch a plan to get Emma a prom she deserves. But they haven't reckoned on the tenacity of PTA chair Mrs. Greene (Kerry Washington, cast effectively against type) to force her homophobia on the community at large.
The cast is energetic, particularly in several of the production numbers —  Streep's "It's Not About Me" will be performed by drag queens for decades to come — but at times Murphy's direction is simply overbearing. The opening number ("Changing Lives"), for example, is a loud and splashy CGI-laden routine that's thrown into our lap before we ever get a chance to know who these characters are. The high kicks of the energetic chorus boys took me right out of the film, and it wasn't until "The Prom" calmed down in the Indiana scenes that its charms began to come through.  More, in this case, is not necessarily more.
Similarly, the performances can be spotty at times — some terrific, others not so much.  Streep, for example, is in pure Patti LuPone diva mode here, which is always fun, and she layers in a certain sense of ruefulness to Dee Dee whenever the stage idol spies a degree of young love between Emma and Alyssa — it's the kind of love that she may have sacrificed en route to her two Tony Awards but which may still be possible in the unlikely form of a small-town school principal. On the other hand, Kidman, with her star quality, seems a bit miscast as the passed-over showgirl, although her Fosse-inspired "Zazz" duet with Pellman works well.
Rannells brings just the right bit of smarm to Julliard-grad Trent, just as he had in Netflix's recent "The Boys in the Band." And if Rannells brings the smarm, Key brings on the charm as Mr. Hawkins, as grounded and sincere a partner that Dee Dee could ever hope to have. In fact, Key is so effective here that I would have named him the film's MVP, except for…
Jo Ellen Pellman.  Discovered after a nationwide talent hunt, Pellman proves to be the real deal as Emma, displaying significant dramatic chops as well as a crystal clear voice, and her scenes with Ariana DeBose as her girlfriend Alyssa display a tenderness between the two young women that is difficult to fake.  This couple feels so right together, with an authenticity between two women that is rare in musical comedy, perhaps due to Pellman being an openly queer actor.
Which brings us to James Corden.  You may have heard that the CBS talk-show host has taken a critical beating for his performance in the film, and it still is among the first things mentioned when I talk to people about "The Prom."  The rap against his performance is that Corden, who's straight, is offering "gayface" — what a straight actor thinks that a gay person must act like.
I am not one of those gay critics who argue that an LGBTQ character can only be played by a gay actor — if we held to that ridiculous standard, we'd all be deprived of brilliant performances by such straight actors as Heath Ledger & Jake Gyllenhaal in "Brokeback Mountain," Charlize Theron in "Monster" and Colin Firth & Stanley Tucci in the upcoming "Supernova."  Orientation has nothing to do with talent and the choices that an actor makes.
However, Corden has chosen to (or was directed to by Murphy, who should know better) flounce his way through the role that brings back memories of unfortunate screen stereotypes of the past and stands in stark contrast to the more authentic work displayed by Pellman. (It doesn't help that Corden's Barry is saddled with a subplot about being accepted by his mother that threatens to shove aside the much better Emma/Alyssa storyline.)  It's a hurdle that "The Prom" just barely overcomes.
Despite the film's occasional hiccups, though, there is still much to like in "The Prom," with its good heart and eager-to-please energy that manages to provide a welcome bit of zazz at a time when so many of us need it.
GRADE: B
"The Prom" is currently streaming on Netflix.