AUGUST 18, 2015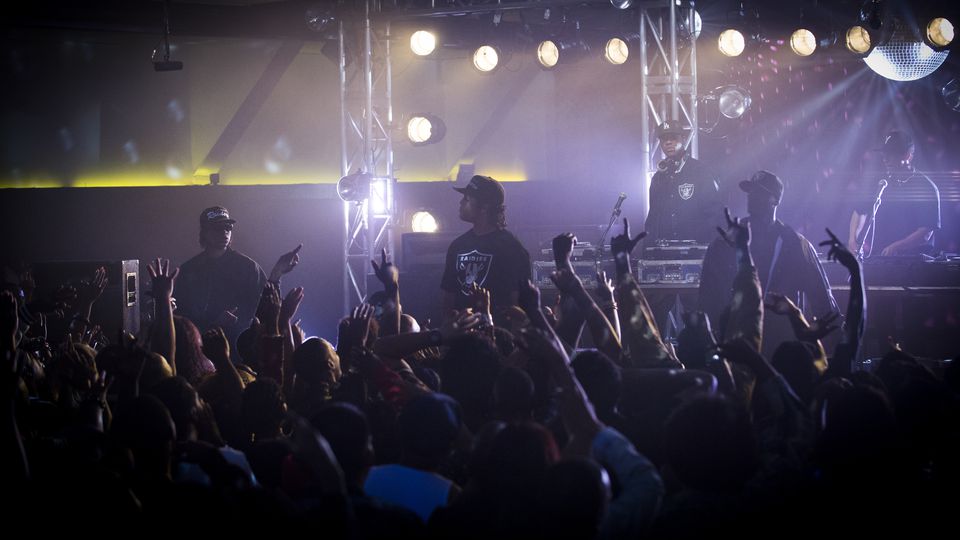 I suppose it's encouraging that a whole new generation of pre- and young teens know Dr. Dre and Ice Cube.  What is not so hopeful is that many of them only think of Dre as the maker of those cool headphones and Cube as the "funny dad" in the "Are We There Yet?" movies.  If only they knew how the real story.  Well, if they can get an adult to sneak them into "Straight Outta Compton," they might have a better idea.
Director F. Gary Gray's musical biopic knocked the industry on its rear this weekend with its unexpected $60.2M opening weekend gross, the 5th largest August opener in history.  The film, which chronicles the rise and fall of legendary hip hop group NWA, played to all demographics, and audiences rewarded the film with a rare "A" CinemaScore, indicating positive word-of-mouth.  How did this happen?
Gray's reputation has largely rested on his talent for action and character (he directed Denzel Washington to an Oscar in "Training Day" and helmed a creditable reboot of TV's "The Equalizer" last fall).  So it shouldn't be surprising that he kicks off this film with a tense action sequence.  Eazy-E (Jason Mitchell) is making a drug drop when all goes south and the police show up with a tank & a battering ram.  It's a kinetic pre-title opening that promises something other than a traditional biopic.
It turns out, the film is and it isn't.  The musical biopic traditionally has a timeworn structure — first the exhilarating rise, then the tragic fall — and "Compton" follows that tradition to the letter.  What's fresh, though, is the subject matter — no fiction film has captured hip hop in quite this way before — and that's what makes "Straight Outta Compton" feel new.
In addition, the film's background captures LA at an historically volatile time — repeated police harassment of African-Americans, the Rodney King beating and the subsequent civil unrest after those officers were acquitted.  It provides a backdrop that allows the rebellious response to NWA's music to make sense.
The young cast acquits itself honorably.  Aldis Hodge and Neil Brown Jr. are fine as MC Ren and DJ Yella respectively, but they're on the sidelines for most of the film.  The forward motion of the story depends the relationships of Eazy-E, Dr. Dre (Corey Hawkins, very good), and Ice Cube (O'Shea Jackson Jr., who perfectly captures his father's voice and mannerisms in a terrific performance).
However, the film's most interesting relationship of all is the one between Eazy-E and the group's music promoter Jerry Heller (Paul Giamatti), who takes the young man under his wing.  Mitchell, who gives probably the film's best performance, makes E a complex figure, defiant of yet reliant on the older man.  Earlier this summer, Giamatti also played an authority figure to another musician in "Love & Mercy," but he's much better here, creating a layered and nuanced character whose ultimate fall, even if it is of his own doing, feels tragic.
"Straight Outta Compton" tells a sprawling story (and by sprawling I mean 142-minute sprawling), and Act 3 in particular could lose at least 20 minutes and be much the better film for it.  But if you have 2 1/2 hours to spare, you could do much worse than spending it with this one-of-a-kind biopic.
GRADE:  B