AUGUST 25, 2015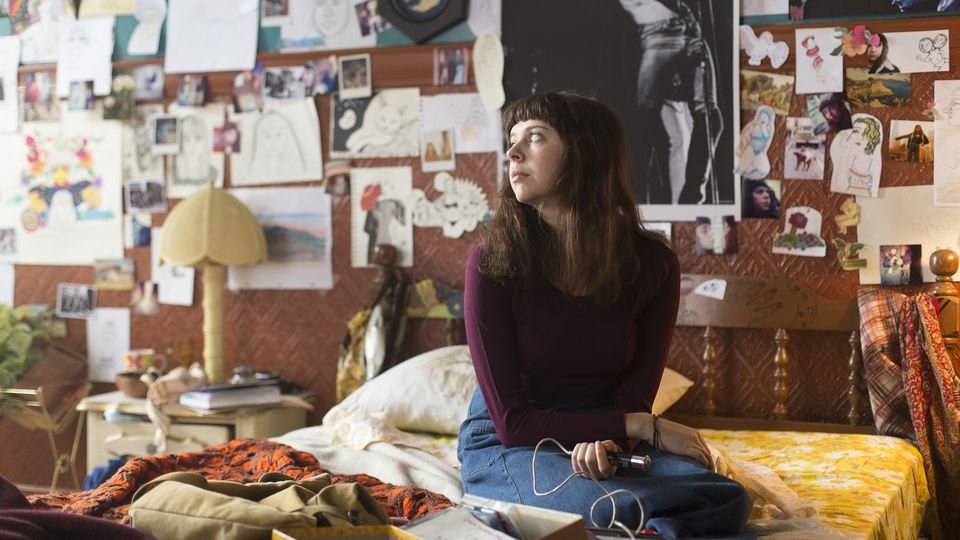 The new indie gem "The Diary of a Teenage Girl" may be as American as apple pie, but its liberated sensibilities about sex feel very very French.
15 year-old Minnie (Bel Powley) is living in San Francisco in 1976 with her self-absorbed mother Charlotte (Kristen Wiig) and her mom's boyfriend Monroe (a wonderfully dopey Alexander Skarsgård).  Yes, Minnie is looking for sex, but more importantly she is also looking for love.  That possibility soon presents itself in the person of Monroe.  After some brief flirtation, one thing leads to another, and an affair begins.
Obviously there is a huge potential ick factor in this set-up, and writer/director Marielle Heller does not shy away from any of it.  The film is as sexually explicit as any American film in recent memory, but it never feels exploitative, despite the situation.  (Just for the record, Powley, a wonderful British actress, is 23 years-old.  But dang she looks 15 here.)
Perhaps the absence of ick is in part because Heller does not sit in judgment of her characters.  Yes, Minnie is reckless in starting the affair, but it is clear that she is using sex to find out more about herself.  Yes, Monroe is doing a bad thing by sleeping with a 15 year-old, but he never manipulates Minnie into doing what he wants, even in bed.  Even Charlotte is dimensional — when Minnie returns home after running away, Charlotte first slaps her, then immediately hugs her in what feels like a very genuine maternal moment.
The film looks great, and Heller adds an extra visual layer by her use of animation.  Minnie aspires to be a comic book artist in the style of R. Crumb (in a nice touch, she even begins a correspondence in the film with Crumb's wife, artist Aline Kominsky).  At times, in the film, Minnie's drawings suddenly come to animated life, offering a fascinating visual glimpse of what's going on in her head.
In recent years in film, teen sexuality has largely been portrayed as a source for cheap laughs.  It's refreshing to see a film take the subject seriously and to be treated as artfully as it is here.
GRADE:  B