DECEMBER 1, 2016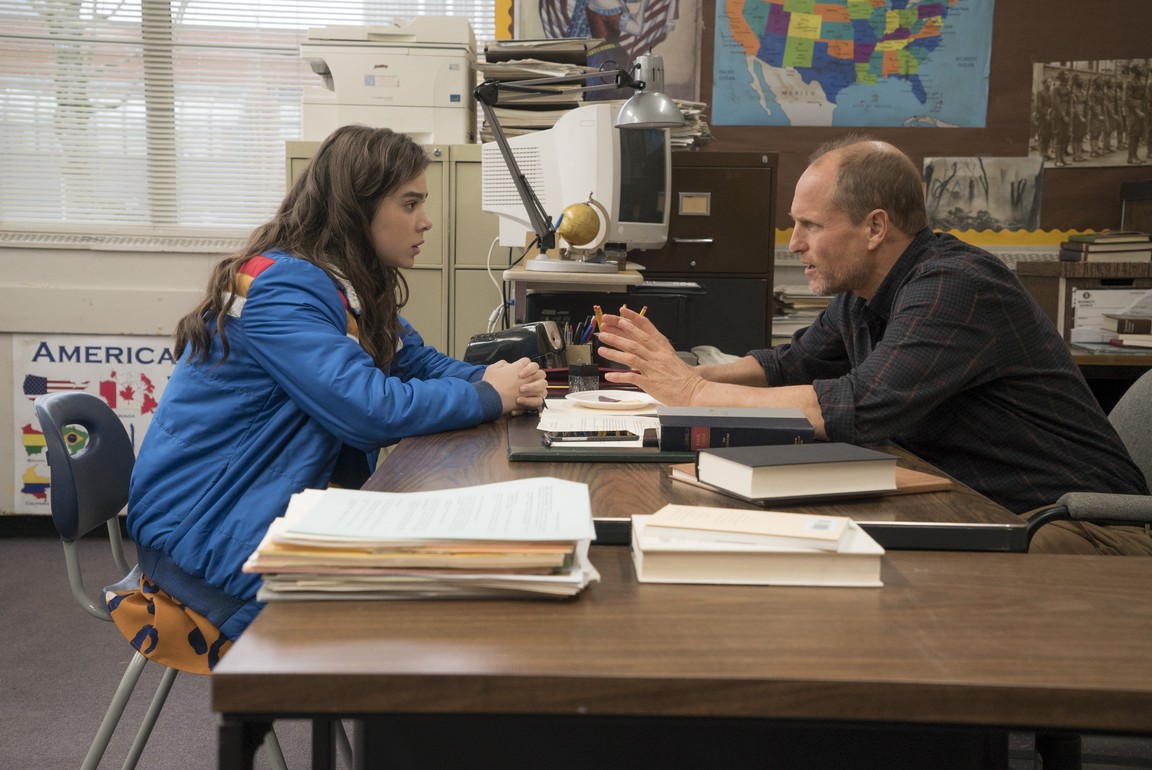 Sometimes you just never know where a good movie is coming from.
For months now, I've been perusing the "Coming Attractions" wall of posters at my local theater.  "Gotta see that, gotta see that," I thought as I made a growing mental checklist of the films I think I need to catch.
But whenever I saw the poster of Hailee Steinfeld as a frustrated teen looking up at the sky in exasperation in "The Edge of Seventeen," I thought to myself, "At least that's one that I can skip."
Wrong again, Tom.
First-time director Kelly Fremon Craig, who also wrote the original screenplay, brings a fresh eye to what has become a tired, played-out genre — the teenage angst movie — and the result is one of the most insightful movies about high schoolers I've seen since the glory days of John Hughes' films in the 1980s.
Ever since she was little, Nadine (Steinfeld, in a performance that's so good that it should be in the awards conversation) has felt awkward and out of place, particularly after the death of her father.  She was then left with her older brother, the golden-boy god Damian (Blake Jenner, who was particularly impressive earlier this year in Richard Linklater's "Everybody Wants Some!!"), the favored child in the family according to their unstable mother Mona (Kyra Sedgwick), who clearly doesn't get Nadine.
The only stabilizing thing in Nadine's world is her long-time friendship with Krista (Haley Lu Richardson) who, when she was young, was just as much as a social outcast as Nadine, and their bond was enough to get them both through much of their difficult teenage years.  But now that both Nadine and Haley are high-school juniors, their dynamic has suddenly shifted.  And after passing out at a vodka-fueled party at home one night, Nadine awakens to see Krista in bed with her golden-boy brother, and emotionally the rug is pulled out from under her.
She turns to a kindred spirit, her history teacher Mr. Bruner (Woody Harrelson), whose lunch period she appears to interrupt every day and unloads all of her angst on the sharp-witted educator.  The Steinfeld-Harrelson scenes are the heart and soul of "The Edge of Seventeen," and this is hands-down the best work that Harrelson has done in years.  His teacher is a man who sees right through Nadine's attempts to engender sympathy for her plight but is impressed with her willingness to go there.
While this description makes it sound like "The Edge of Seventeen" is a turgid psychological drama, the film, like the John Hughes classics that have preceded it, uses the counterpoint of sharp humor throughout, and like Hughes, manages to juxtapose a hilarious line with one that can be emotionally devastating.  I mean, how can you hate a film that can incorporate a line like Nadine's
"There are two types of people in the world.  The confident, and the people who hope the confident die."
Sing it, sister.
When you've got insightful writing like that, a skilled director would normally just get out of the way and let the writing speak.  Right now, Craig is a better writer than she is a director — this is a first-time effort, remember, and, to be honest, the film does ramble around a bit.  But Craig has shown that she not only has strong storytelling skills, but she has been able to draw out some powerful performances from former Oscar nominees Steinfeld & Harrelson.  That's a skill that some veteran directors would give some eye teeth for, and Craig has got it.
"The Edge of Seventeen" has revealed a distinctive new film voice with Kelly Fremon Craig and has only reestablished Hailee Steinfeld as one of the finest actresses of her generation.  Stick your preconceptions about teen comedies in a drawer, and give "The Edge of Seventeen" a chance.  I suspect that you'll be glad you did.
GRADE: B+