MARCH 15, 2017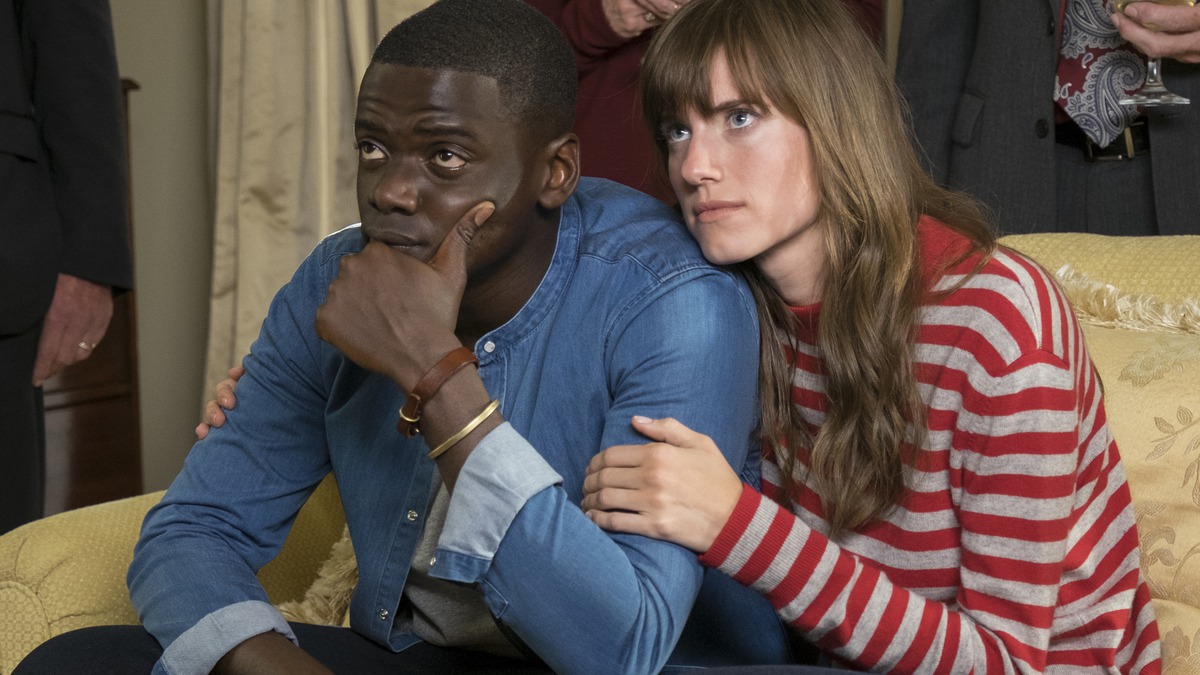 Over the past few months, several of the most acclaimed films out there have centered on race and the African-American experience in the United States.  In fact, three of them competed for the Best Documentary Feature Oscar last month — "13th" (which focused on the use of the 13th Amendment against African-Americans), "I Am Not Your Negro" (a meditation on black life based on the writings of James Baldwin) and the eventual winner "O.J.: Made in America" (all about you know who).
Though touching on contemporary African-American life, "O.J." and the Baldwin film are set primarily in the past, and "13th" deals mostly with African-Americans involved in the criminal justice system.  What was missing was a film that offered, for better or for worse, what a glimpse into race relations today.  That is, until now.
And that glimpse, however skewed it might be, has come from a most unexpected source — a contemporary horror comedy.
"Get Out," the directorial debut of comedian Jordan Peele (of the acclaimed comedy duo Key and Peele), is one of 2017's most acclaimed films (99% favorable reviews on Rotten Tomatoes) and most profitable (Cost to make?  Just over $4 million.  Box-office gross so far? $118 million and counting!)  As impressive as these stats are, however, they don't reflect just how scary, how imaginative and, most of all, how smart "Get Out" is.
The film begins as any horror film would — a lone figure (in this case a black man rather than the usual teenage girl) walks down a dark street and is assaulted and thrown into the trunk of a car.  Familiar enough stuff.  "Get Out" then switches to its primary story, as Chris Washington (Daniel Kaluuya, who is so memorable in "Sicario") and his girlfriend Rose Armitage (Allison Williams of HBO's "Girls") are preparing to travel to her family home so that Chris can be introduced to her parents, who haven't been told that Chris is black.  Rose assures Chris that her parents will be fine with that.
And in fact, her parents are as welcoming as Rose said they would be, at least in a very "white liberal" way — her surgeon father Dean (a cagily-cast Bradley Whitford of "The West Wing") keeps calling Chris a wince-inducing "my man" again and again, and her mother Missy (Catherine Keener) is a psychiatrist anxious to help Chris quit smoking by hypnotizing him, which she manages to do with very unexpected consequences.
Chris feels an uncomfortably condescending vibe right away, so he seeks some support from the family's African-American household staff, groundskeeper Walter (Marcus Henderson) and housekeeper Georgina (Betty Gabriel), but he is surprised when both treat him with disdain and, at times, outright hostility.  By phone, Chris expresses his creepy feelings to his TSA pal Rod (Lil Rel Howery, who provides the film's comic relief in a role that Peele himself might have played on his sketch show) who suggests that it might be best for Chris to get out.
Chris is torn:  is it just his racial paranoia kicking in or is there something genuinely threatening at work here?
[SPOILER ALERT]:  Psst, Chris, it's Option B!
I dare not go any farther in describing what awaits you in "Get Out," but hats off to Jordan Peele for such an assured piece of direction on his very first film, bringing to life an absolutely original idea (as horrifying as it winds up being) and bringing it to life without sacrificing any of the laughs and, more importantly, the shrewd racial commentary that permeates almost every scene of the film.
Peele knows his stuff — even without the comedy or racial commentary, "Get Out" would work as a smashing horror film.  But adding those other elements, each masterfully done, only deepens the resonance of "Get Out," and when you walk out of the theater, you may be laughing, you may be shaken, but you'll know that you've really seen a movie.
GRADE: A-