MARCH 23, 2017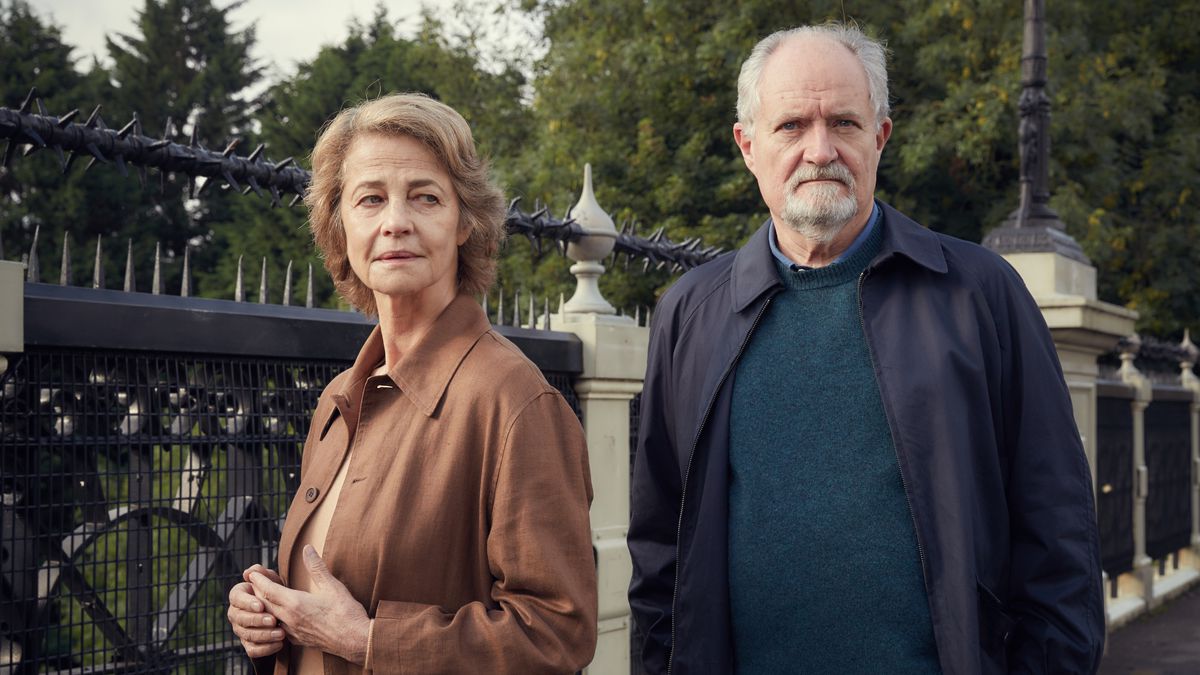 On paper, "The Sense of an Ending" would seem to have everything a PBS viewer would want.
It's based on a prestigious Man Booker Prize-winning novel.  (Check!)
It's a lush romantic story set both in the past and the present.  (Check!)
It's directed by a very successful maker of art-house films. (Check!)
It stars Academy Award-winning actor Jim Broadbent.  (Check!)
It co-stars Academy Award-nominated actress Charlotte Rampling.  (Check!)
It also co-stars "Downton Abbey" Emmy nominee Michelle Dockery (Double check!)
And check! your PBS bingo card is filled.  "The Sense of an Ending" has all of the elements for an art-house smash hit.  So why isn't it…better?
Based on the Julian Barnes novel which was all the rage among book clubs some five or six years ago, Nick Payne's script adaptation focuses on Tony Webber (Broadbent) a retiree who now runs a tiny specialty camera shop in London.  Tony gets on well with his ex-wife Margaret (Harriet Walter) and his very pregnant daughter Susie (Dockery, largely wasted), and he thinks of himself as a jovial old guy, but when pressed, Margaret will tell you that Tony is anything but.
One day he receives a posthumous letter written by Sarah Ford, the mother of his girlfriend Veronica (Freya Mavor) whom he dated while he was at secondary school.  Sarah has left Tony a diary written by his boyhood chum Adrian (Joe Alwyn), but apparently the diary is currently being held back by the now-adult Veronica (Rampling) who refuses to give it up.  Wanting his inheritance, Tony is determined to track down the diary and his old girlfriend.
At this point, the narrative begins to run on parallel tracks as Tony, now awash in memories from his time in secondary school, reminisces about the first time as a young man he met Veronica, her regular-guy dad David (David Selby) and flirty mom Sarah (Emily Mortimer).  Tony begins a relationship with Veronica that turns out to be non-sexual, though he desperately wants it to be so.  Veronica, meanwhile, turns her romantic attention to Adrian, which prompts a vile and vengeful response from Tony that leads to tragic consequences.
This dual-track narrative works fine here with one major exception.  Most of the dramatic action, particularly in the flashback scenes, happens off-camera, rarely seen but merely commented upon.  Did you hear that so-and-so committed suicide?  Or have you heard that so-and-so is pregnant?  All the drama is discussed from a distance but not ever actually seen or experienced.  That puts us the viewers at a distance as well, and that is a major obstacle to our involvement in the story.
That is unfortunate particularly in grappling with the biggest question that the film raises:  What if it suddenly hit you that the events of your life that you feel you remember never happened that way at all, that what you've been recalling all these years is basically a lie?  This should be a powerfully devastating moment for Tony once he learns what Adrian's diary contains, but because of all of the distancing that film trades in, all we get at Tony's moment of revelation is Broadbent looking off into the distance, as if there was an "Oh dear me…" bubble extending from his mouth.
Under the serene direction of Ritesh Batra (an Indian filmmaker who directed the acclaimed 2013 film "The Lunchbox"), "The Sense of an Ending" can be a bit sluggish at times, but even its potentially disturbing material is safe enough even to attend with your mother.  But don't be surprised if mom turns to you at the end and asks, "Is that all?"
GRADE: B-