NOVEMBER 9, 2017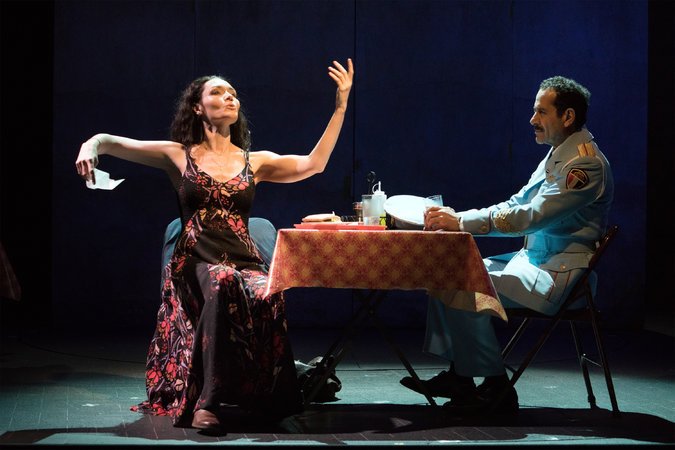 Photo: The New York Times
If you're heading to New York for the holidays and are looking for a big, splashy Broadway musical bursting with singing and dancing, by all means avoid "The Band's Visit."  But if you're looking for a small, thoughtful musical that you can argue about over coffee, get your tickets now.
"The Band's Visit," which opens on Broadway tonight at the Ethel Barrymore Theater, is a movie adaptation but one from a most unlikely source — Eran Kolirin's 2007 film from Israel about a seven-man band from Egypt who were scheduled to give a concert with Israeli musicians but hopped the wrong bus from the airport and are now stuck in a tiny Israeli village with few people and fewer ways to get to where they want to be.
It's a familiar premise right out of a Hollywood Western — stranger(s) wander into town and though they stay only a short time, they change the residents' lives forever.  Yes, you may have seen the musical's premise before, but it's the way in which director David Cromer (who directed that  landmark production of "Our Town" with Helen Hunt in 2009) does it here that simply takes your breath away.
The band is conducted by Tewfiq (three-time Emmy Award-winner Tony Shalhoub) who tries to run the band as if it were a military unit, but not all of its members pay attention, particularly Haled (Ari'el Stachel), who trots out his tired old pick-up lines at a moment's notice and is primarily responsible for getting the band to the wrong town.
Once they arrive, they are taken under the wing of town's leading citizen Dina (Katrina Zenk), who basically runs the town's equivalent of a 7/11.  She convinces the citizens of her town to take the Egyptians into their homes, where both sides learn valuable lessons.  There's an unhappily married couple, slacker Itzik (John Cariani, who was so good in "Something Rotten!") and and his fed-up wife Iris (Kristen Sieh), who cannot get their baby to sleep until the band's clarinetist Simon (Alok Tewari) works his magic.  And then there's the band's lothario Haled trying to teach a shy townie how to approach a girl at a roller disco!!  Yes, Broadway fans, roller discos are back!
But the show's most heartfelt relationship is between Dina and the socially clumsy Tewfiq, and to watch her try to break him out of his shell is a thing of beauty.  Shaloub delivers his usually dependable performance, but Zenk is the real star here.  Her Dina is a force of nature, as everyone in town knows that she's the real boss, but she manages to find someone of interest in Tewfiq and opens her deepest thoughts to him in a jasmine-scented ballad entitled "Omar Sharif."
In an era of bloated movie adaptations and boring jukebox musicals, it's so nice to settle in with a smart musical  (with music and lyrics by David Yazbek of "Dirty Rotten Scoundrels" and "The Full Monty" and a trim but powerful book by Itamar Moses) that doesn't insult your intelligence but still winds up providing the same level of musical satisfaction that you should expect from the best Broadway shows.
When heading through the front doors of "The Band's Visit," if you keep your razzle-dazzle expectations low and your intelligence hopefulness high, you're going to have a great time.
GRADE: A-