APRIL 25, 2018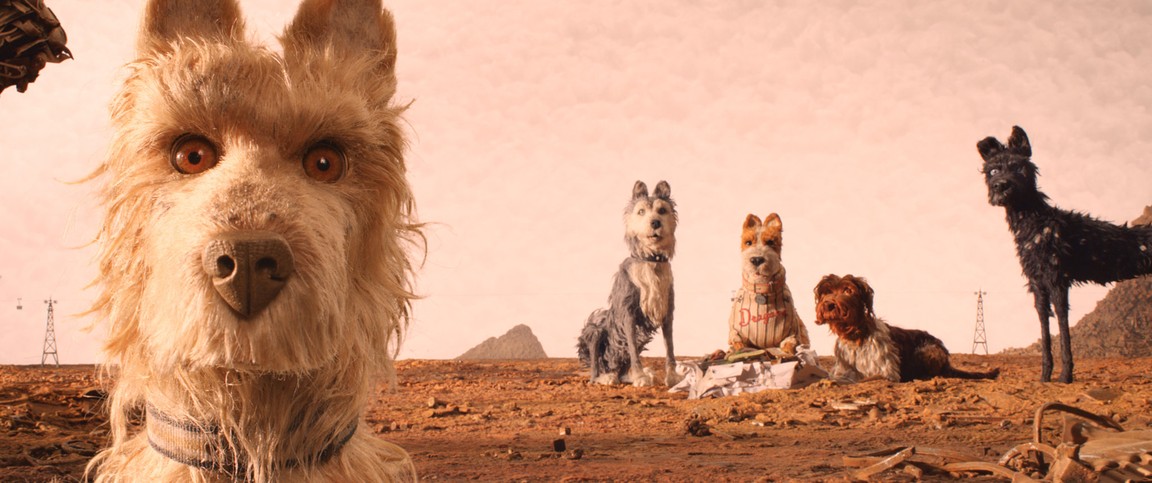 If you had asked me early in the year what would be the most controversial movie of the spring, I would have hands down said "Chappaquiddick," a film that focused on Ted Kennedy's culpability in the drowning death of campaign worker Mary Jo Kopechne.  But that film came and went without a whimper.  Instead, the fiercest online arguments this season have centered around the most unlikely candidate for controversy — Wes Anderson's stop-motion animated feature "Isle of Dogs."
Set in a dystopian Japanese city called Megasaki, the film's action begins when its cruel mayor, Kobayashi (Kunichi Nomura, who co-wrote the story), anxious to keep his base voters, whips them into an anti-dog frenzy, citing such made-up diseases as "dog flu" and "snout fever."  "To protect the public," he exiles all dogs to a garbage dump called Trash Island, and to prove his sincerity, the first dog to be exiled will be Spots (Liev Schreiber), the beloved pooch of his 12 year-old ward Atari (Koyu Rankin).
No one can come between a boy and his dog, so Atari naturally steals a puddlejumping plane and crash lands on Trash Island in search of Spots.  He is befriended by a quintet of mangy alpha dogs — Boss (Bill Murray) who was once a sports mascot; Duke (Jeff Goldblum) who is excited to pass along any gossip he hears; King (Bob Balaban) who once was the face of a dog food company; Rex (Edward Norton) who wants to be the leader; and the group's real leader Chief (Bryan Cranston) who is not averse to a battle. ("I bite" is his warning to any potential opponent.)  And the search for Spots is on!
As with any Anderson film, his major calling card here is he attention to detail in both the characters and their surroundings.  You can see the toll that Trash Island has taken on these dogs, many of them former house pets, in their matted fur.  That visual tells us all we need to know.  And look closely at those piles of garbage, and you'll see individual labels on cans and boxes.  "Isle of Dogs" is extremely stylized, but when you see those kinds of touches, it makes it all seem real.
And what a voice cast that Anderson has assembled!  Oscar winners Frances McDormand, Tilda Swinton and F. Murray Abraham;  Oscar nominees Cranston, Murray, Balaban, Norton, Greta Gerwig, Harvey Keitel, Ken Watanabe and Anjelica Huston;  Tony Award winners Schreiber and Scarlett Johansson, and Emmy winner Courtney B. Vance.  Plus Yoko Ono!
As dazzling as the visuals are, however, Anderson's narrative poops out around the 80-minute mark just when it should be building to a climax, even though Anderson's characterizations are sharp and his noted wit is every bit as present as in his other films, particularly his other stop-motion animated film, the 2009 "Fantastic Mr. Fox."
Although reaction to "Isle of Dogs" has been largely positive (90% favorable reviews on Rotten Tomatoes), there have been some writers who have been critical of Anderson's take on Japan and of the Japanese people.  Anderson's decision to have the Japanese people speak in their native tongue seems noble on the surface, but the fact that it is sometimes not translated has a distancing effect for us, a feeling that the Japanese people are somehow The Other.
Worse, when the revolution against the mayor's anti-dog decree is formed, it is not led by one of his own people but instead by Tracy Walker (Gerwig), a white exchange student from Cincinnati.  While Gerwig is fine, there's a tone deafness to yet another version of The White Savior that seems out of place in a otherwise well intentioned film.
Though "Isle of Dogs" doesn't always work, any animated movie that can take on the issues of deportation and political hysteria while being visually stunning makes "Isle of Dogs" a one-of-a-kind.
GRADE: B