MAY 16, 2018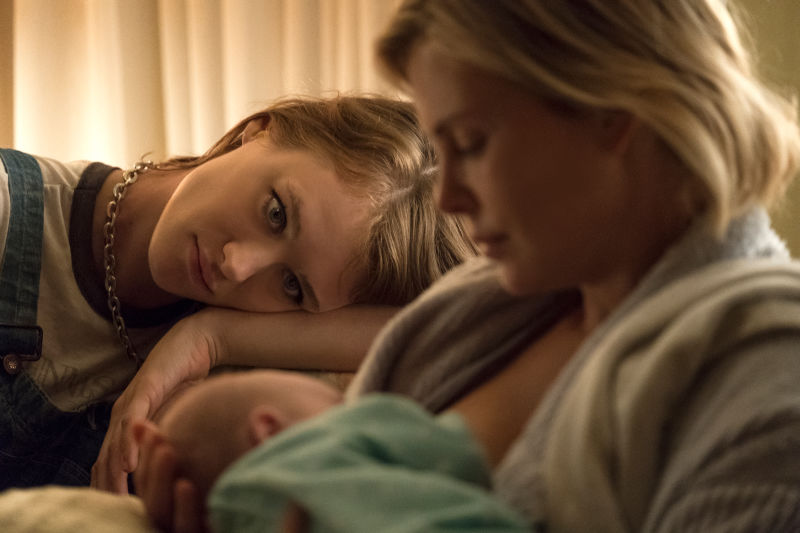 Foremost among the many wonderful things about Jason Reitman's new film "Tully" is Charlize Theron.
A character actress at heart stuck in the body of a beautiful movie star, Theron is one of those actors who will do anything to get at the heart of any character she's playing.  She worked against her looks and packed on the pounds to portray serial killer Aileen Wuornos in 2003's "Monster," a powerhouse performance that won Theron the Best Actress Oscar.
Theron is heavy here again as Margo, a housewife whom I imagine was a knockout when she was younger but on whom motherhood has certainly taken its toll.  With two kids already (one of whom acts out and does not fit at his school) and a third about to be born, Margo is not just tired but exhausted. Her husband Drew (Ron Livingston) is a hard worker and a good dad, but at bedtime when Margo needs some loving, he checks out emotionally by playing video games.
Margo and Drew aren't rich, but Margo's brother Craig (Mark Duplass) is, and after the baby is born, he offers to pay for a night nurse to look after the baby so that his sister can catch up on some much-needed sleep.  Margo politely declines, but Craig is undeterred, so one night a night nurse named Tully (Mackenzie Davis) shows up at the door ready to take care of the infant.
Margo is initially resistant, imagining TV movies in which the babysitter is psycho and the mom winds up "walking with a cane."  But Tully is so joyful and full of life that Margo's barriers break down.  Margo awakens after her first good night's sleep in ages to find that Tully has made freshly-baked cupcakes for her. And a friendship is born.
The smart screenplay is by Diablo Cody, whose first collaboration with Reitman, 2007's "Juno," brought her an Academy Award for her script.  Their second film together, 2011's "Young Adult" starring Theron, has some passionate fans, although I am not one of them.
Reitman has made some good films on his own, particularly 2009's "Up in the Air," as has Cody with 2015's "Ricki and the Flash."  But they have never been as good on their own as they have been together.  And with "Tully," they are back on the same wavelength as they were with "Juno," and we're all much the better for it.
Cody's script holds back the first appearance of the title character until the end of the first act, which is a gamble but one which pays off here, as it gives us an entire half-hour to get to know Margo — her hopes and dreams and disappointments — so that when Tully comes into her life, we can appreciate what a godsend she is.
If truth be told, however, Cody's story gets a little wobbly in the third act with a few questionable plot points (not to be spoiled here) that took me out of the film.  But by the film's final shot, her script is back on solid ground, and you leave the theater with a smile.
Davis, who is new to me, makes Tully's sunniness entirely believable (not an easy thing to do) and Livingston as reliable as always.  But it is Theron, who can be so convincing as an action star ("Atomic Blonde," "Mad Max: Fury Road"), who reminds us just how powerful a small gesture, such as a loving facial expression when her baby is breastfeeding, can be.  Reitman and Cody provide the actress the tools, and Theron certainly knows how to use them.
GRADE: B+