MAY 17, 2018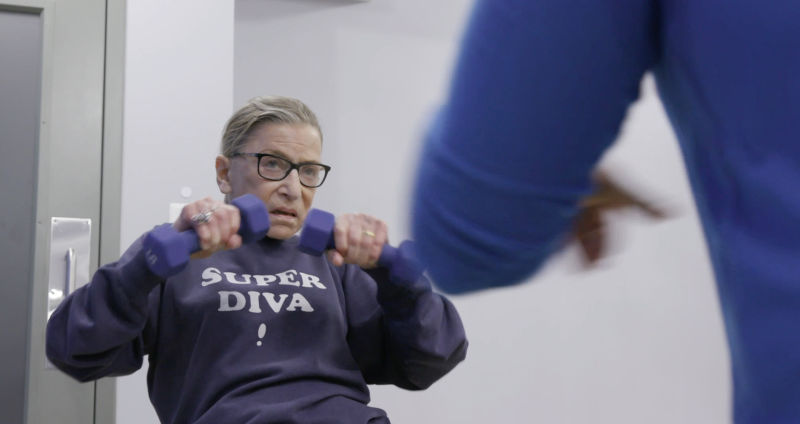 The national box office returns got severely shaken up this weekend.  It seems that a small documentary smashed into the national Top 10, just behind "Black Panther," which was playing in 1,516 theaters.  "RBG," a doc profiling Supreme Court Justice Ruth Bader Ginsburg, played in only 179 theaters and finished right behind it.  Pretty impressive.
I must confess that I'm a bit predisposed toward "RBG" because I'm such an fan of the film's subject.  And the film provided several new reasons to admire her, as I was unaware of the two decades in which Justice Ginsburg argued (and won 5 of 6 cases) in front of the U.S. Supreme Court advancing women's rights.
Nonetheless, co-directors Julie Cohen and Betsy West have concocted a love letter to Judge Ginsburg, which is wonderful for those of us who love her, but, as a film, it feels seriously imbalanced.
Yes, there is a montage at the beginning of the film of right-wing radio nutjobs such as Mark Levin and Michael Savage decrying the decisions that Judge Ginsburg has made, but, except for a family criticism that she's a bad cook, there's little else in the film that does anything but extol her.
But there is certainly much to extol.  Her decisions on behalf of women, gays and minorities can be seen as landmarks in the judiciary.  Probably the most interesting part of the film was the campaign that was waged by her late husband Marty to raise her profile to the point that President Bill Clinton could not ignore her when it came to filling a slot on the U.S. Supreme Court.
Cohen & West's film hits all the high points of Justice Ginsberg's life and career — her powerful testimony during her confirmation hearings, her longtime love of opera and her unlikely friendship with the late conservative Justice Antonin Scalia.  (There was even an opera written about their friendship.)  And, yes, the film does tackle the viral phenomenon of the moniker "The Notorious RBG" that has caused Justice Ginsburg to become a cult celebrity, as well as the subject of a classic Kate McKinnon character on "Saturday Night Live."  (Justice Ginsburg laughs heartily as she is shown the sketch for the first time.)
Is it a great documentary?  It's certainly an enjoyable one, but as filmmaking goes, it's pretty standard stuff — lots of talking heads interspersed with archive tape footage.  What keeps us going is the sparkling personality of its subject — not just in her quick-witted repartee, but particularly in sharing her passionate devotion to the law with her often-young audiences.
The quips may come and go, but it is Justice Ginsburg's legal passion that will likely mark her legacy, and it is that which "RBG" captures beautifully.
GRADE: B