MAY 14, 2019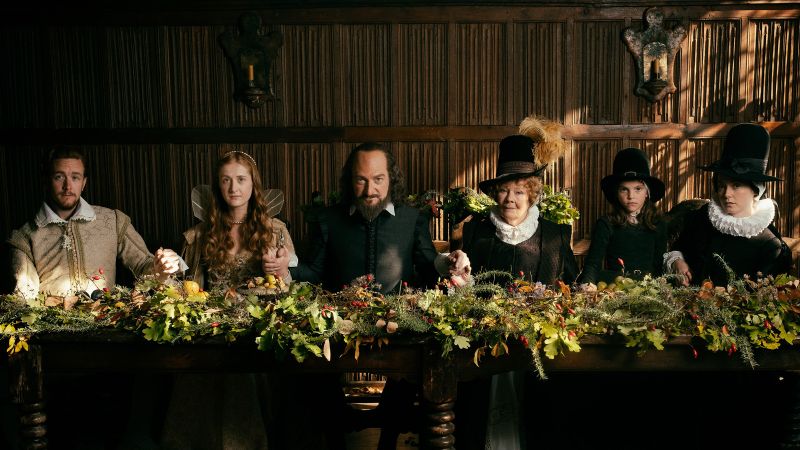 It's been 13 years since Kenneth Branagh, the foremost film interpreter of Shakespeare in our generation, has actually made a Shakespearean film. (That was 2006's "As You Like It.")  This time, Branagh returns not to adapt a Shakespeare play to the screen but instead to star as Shakespeare the man.  But "All Is True" isn't a tale of "Shakespeare — The Great Writer."  This is "Shakespeare — AARP Edition."
A prologue tells us that in 1613, Shakespeare had just premiered his latest play, "Henry VII" (aka "All Is True"), at London's Globe Theatre when a theatrical cannon misfired, resulting in his beloved Globe catching fire and burning to the ground.  Shakespeare becomes despondent and announces that he will write no more.  After deciding to retire at age 49, he packs his bags and leaves London, aiming to return to Stratford-upon-Avon and the embrace of his family.
To his surprise, Shakespeare's return was met with a greeting that was neither warm nor welcoming.  What he saw as two decades of bringing honor to the family name as the world's greatest playwright was seen instead by his wife Anne Hathaway (Judi Dench) as gross neglect of his responsibilities as a husband and father.  In fact, Anne treats Will as a mere visiting guest, declining to share her bed with him, relegating him to the guest bedroom down the hall.  Ouch.
The welcome is less chilly from his older daughter Susanna (Lydia Wilson), who is stuck in a miserable marriage to radical Puritan John (Hadley Fraser) and is suspected by the locals of infidelity.  Less excited, however, is younger daughter Judith (a sensational Kathryn Wilder) who has reasons of her own for not wanting her father back into her life.
Just as in many of Shakespeare's plays, hovering over the action here is a ghost — in this case, that of his son Hamret who died allegedly from the plague at age 11 over a decade ago.  In the intervening years, the absent Will built up Hamret in his memory as a budding genius, whose writing in his early letters so impressed his father than he began to think of Hamret as the natural heir to his own playwrighting skills.
One of the elements in which screenwriter Ben Elton succeeds is the slow thaw of Anne's icy feelings toward her husband, as she gradually reveals her humiliation when hearing about Will's sonnets, expressing his lust for a mysterious "dark lady" and even one about his attraction to "a fair young man."
That "fair young man" is now the aging Earl of Southampton (Ian McKellen) who rides into Stratford and, much to Anne's displeasure, is invited into the Shakespeare home.  What ensues is a remarkable 14 minute dialogue between Will and the Earl (or more importantly, between Branagh and McKellen, great Shakespearean actors both) about those sonnets and eventually what went on emotionally between them years before.  Until this point, Elton's script has been fairly ordinary, but in these 14 minutes, the words soar, lifting the film up to a new height and providing a glimpse of the film it could have been.
The only other moment that comes close to matching that peak is a scene between Judith, who was the twin of the late revered Hamret, and her father, confronting him about her feeling that Will believes that the wrong twin died that day.  Wilder is terrific throughout, and that moment is one of Branagh's best as well, as Will must face the truth that she might be right.
Otherwise, Branagh's Shakespeare is little more than a makeup-reliant performance, much like his Hercule Poirot in 2017's "Murder on the Orient Express."  With a long nose that is only rivaled by Steve Martin's in "Roxanne," his Will may physically move like a broken man, but the character grows only slowly, and we begin to lose interest in him, even as he is dying.  Dench has a different problem, mainly one of casting.  Yes, Anne Hathaway was eight years older than Shakespeare in real life, but Dench is 26 years older than Branagh, so when he makes his unwelcome return home, it feels like Shakespeare is being scolded by his mother rather than his wife.  As good as Dench is, that age disparity throws off the balance in every scene they share.
Branagh also makes several curious directorial choices here.  At certain moments, he sets the camera about a 100 feet away and arranges the action and actors in a horizontal line, then brings the camera closer so that we can understand what's being discussed.  At first, the effect is striking, but eventually all that distance away becomes, well…distancing.  More successful is when he keeps the camera low at the edge of a room, and the effect makes it feel like you're eavesdropping on a private family conversation (or battle).
As powerful as some individual scenes may be, "All Is True" is ultimately minor Branagh.  Without the sturdy backbone of a Shakespearean text to rely on, the film seems a bit diminished compared with "Henry V" and "Much Ado About Nothing."  Elton's at times florid script does the actors no favors, and it is thanks to Branagh's that the entire enterprise stays on track.  Much of the film is mere speculation on what the last years of Shakespeare's life may have been like, but it is in those selected high points that "All Is True" really does ring true.
GRADE: B-