AUGUST 16, 2019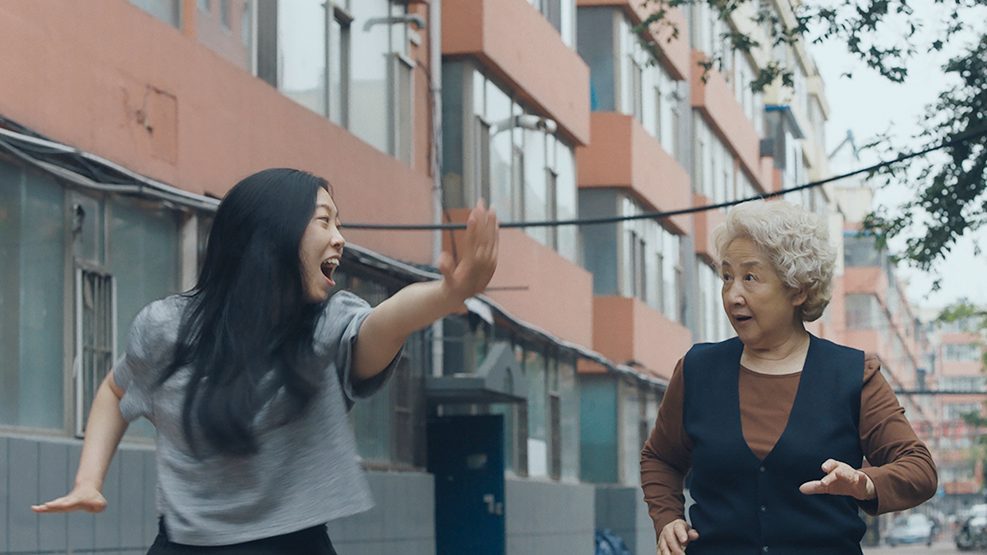 One of the great ironies of Lulu Wang's wonderful new film, "The Farewell," is that the more specific it gets about the intricacies of Chinese family culture, the more universal it becomes.
Based on Wang's own family experience, or as the film puts it, "Based on an actual lie," "The Farewell" stars Awkwafina as Billi (the obvious stand-in for Wang), an artistic young woman who lives in New York, where her parents Haiyan (Tzi Ma) and Jian (Diana Lin) brought her as a child after the family emigrated from China in hopes of a better life.  Her parents confidentially tell Billi that her grandmother Nai Nai (Zhao Shuzhen), who lives in China, has been diagnosed with lung cancer and only has months to live, emphasizing that Nai Nai does not know and must not be told.
Billi is baffled, as she feels that Nai Nai should know that her days are numbered and be allowed to choose how she wants to spend them, but her parents argue that Chinese culture dictates that she should be kept in the dark to allow her to live her normal life before the end.  Haiyan and Jian plan to travel to China to say their goodbyes to Nai Nai, but they ask that Billi to please stay home, because she will undoubtedly spill the beans to Nai Nai.
Nai Nai apparently is a really smart cookie, so, not wanting to arouse suspicion, the family arranges to have a cousin who is about to marry his fiancee in Japan have the wedding instead near Nai Nai's home in China  Therefore, when relatives suddenly arrive on the scene, Nai Nai will think it's for the wedding instead of a farewell.  Once her parents are safely on their aircraft, Billi decides to ignore her parents' request, and she boards the next plane heading to China.  Nai Nai is delighted to see her, and Billi's parents are horrified at her arrival.
At this point, writer/director Wang could have gone the melodramatic route, dragging out the maudlin aspects of Nai Nai's prognosis, but she wisely chooses to emphasize the joy that Nai Nai has at simply being alive.  As the other members of the family are busy making preparations for the wedding, Billi spends quality time with her grandmother (pictured together above), learning more about her life and how devoted she is to her family.
It's in these scenes that Wang displays her strength as a writer — though she uses several words or traditions in the Chinese culture with which I was not familiar, the more we get to know this family, the more that we can relate to them.  When the family gathers at the wedding reception, I will guarantee that you will recognize people you know in this family.  "She reminds me of my aunt."  "That's my sister."  "There's me."  That's how perceptive a writer that Wang can be.  (She's no slouch as a director, either.)
Wang's cast is strong across the board, but there's are two especially standout performances here.  The first is rapper Awkwafina, who impressed audiences around the world in 2018 with her comic work in "Ocean's 8" and especially "Crazy Rich Asians."  Here she gets to show us her unexpected dramatic side and displays an ability to convey love and tenderness in a way that's just extraordinary.
Then there's Zhao Shuzhen as Nai Nai.  The septuagenarian Chinese actress who is primarily known for her grandma roles in Chinese soaps could have phoned it in, but her Nai Nai is something more than the usual old-lady cliché — in Zhao's hands (and with a great help from Wang's script), the character is both wise and perceptive without losing her sense of fun.  It's great work and remains one of the year's best supporting performances.
I've seen "The Farewell" twice now, and I must admit that the second viewing only deepened by admiration for the film.  Wang's approach makes it very clear that this story and these characters are personal to her, and it's that experience that she brings to the movie which helps to elevate the film far above your average comedy/drama.  It's one of the best films released so far this year.
GRADE: A-
P.S.  Don't leave early.  There's a whopper of a twist just before the final credits start to roll, and you'll be very glad you stayed.