NOVEMBER 21, 2019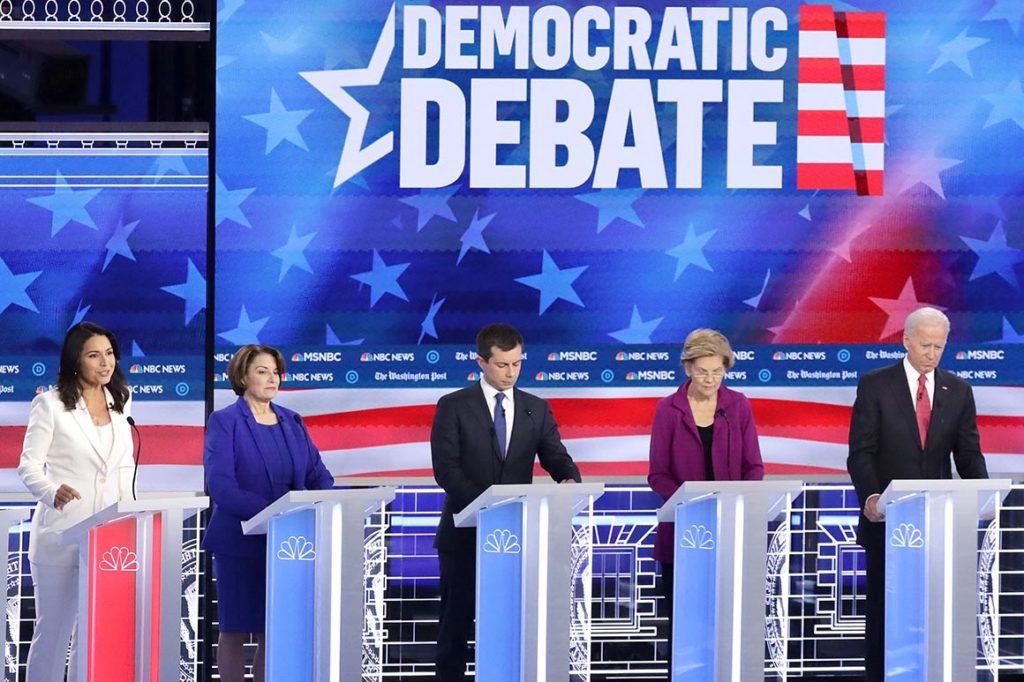 Photo: Getty
Wednesday night's fifth Democratic debate, held at the Tyler Perry Studios in Atlanta, was a relatively civil affair compared with the attack-filled tone of several of the earlier debates.  The MSNBC/Washington Post-sponsored evening winnowed the number of candidates onstage to just 10 (still too many), but compared with the fireworks at the impeachment hearings which preceded the telecast, it was a relatively orderly affair, helped in no small part by the excellent team of moderators — NBC/MSNBC's Rachel Maddow, Andrea Mitchell and Kristen Welker, as well as the Washington Post's Pulitzer Prize-winner Ashley Parker, all of whom kept the back-and-forth securely on-track.  Can we have these women back for every debate, please?
Most of the candidates (with a few notable exceptions) had a pretty good night, though there were enough zingers and gaffes to keep things lively.  Let's review with this month's edition of Debate Winners and Losers.
WINNERS:
PETE BUTTIGIEG — As the new front-runner in the Iowa primary as well as coming on strong in New Hampshire, Mayor Pete was largely expected to have a target on his back.  But except for a brief dustup with Rep. Tulsi Gabbard which he quickly quashed, Buttigieg went attack-free, which for any front-runner counts as a win.  The only downside might be is that his rivals might be taking a wait-and-see attitude as to whether he can hold that lead for another month.  If so, then the pile-on will come in the December debate.
AMY KLOBUCHAR — Another strong debate performance from the Minnesota senator.  Her brand of "Minnesota Nice" is playing very well in nearby Iowa, and she is slowly climbing in the polls there, though not enough to yet be a target.  She made no gaffes and was solid as usual on the issues.  And she probably had the night's best line when discussing doubts about a female President: "And if you think a woman can't beat Donald Trump, Nancy Pelosi does it every single day."
KAMALA HARRIS — This was probably the California senator's best debate performance since the first, and it was a performance she needed as her candidacy may be on the ropes.  Her point about candidates only courting African-American and female voters once every four years was a strong one, and her line about Donald Trump being punked by Kim and North Korea was both funny and true.  Wednesday night was a good rebuilding block for her, but remember, Iowa is just around the corner and she needs more to contend.
CORY BOOKER — As another candidate who is struggling to get traction, the New Jersey senator had a good night, largely because, for the first time, he seemed like he was having fun.  (Never underestimate that power that can warm voters to a candidate.)  Even though he was situated at the edge of the stage, he became a major part of a large part of the dialogue during the evening and had a great moment when, after Joe Biden decried legalizing marijuana, Booker's response of "I thought you might have been high when you said it" brought the house down.
LOSERS:
TULSI GABBARD — Once again, the Hawaii congresswoman tried to pick fights with others onstage in an effort to create a moment, and once again she was shut down by both Kamala Harris, who got the best of her over Gabbard's repeated Fox News appearances criticizing President Obama, and Pete Buttigieg, who criticized her meeting with murderous Syrian dictator Bashad al Assad.  If she's dangling for a job at Fox News, she may get it, but her expiration date for the debate stage will likely be soon.
JOE BIDEN — He really needed a strong performance at this debate, and he delivered effectively in the first hour, but the narrative of him being gaffe-prone took hold in Hour #2.  He used an unfortunate choice of words in making a point against domestic violence, saying that you "have to keep punching at" it.  Worse, he tried to bolster his civil rights bona fides by asserting that he has been endorsed by "the only African-American woman that's ever been elected to the U.S. Senate," a reference to Illinois' Carol Moseley Braun.  There's actually been two, and the second, who stood just a few feet from him, is Kamala Harris, who threw up her hands and said, "I'm right here." It was an embarrassing unforced error that only reinforced the "Biden as gaffe machine" narrative.
Next up will be the sixth debate that will be held on December 19 in Los Angeles and will be sponsored by PBS and Politico.  So far, only six candidates (Biden, Warren, Sanders, Buttigieg, Harris and Klobuchar) have met the higher qualifications for this debate, but others have a few weeks to make it.  Until then, be there or be square.