JULY 16, 2020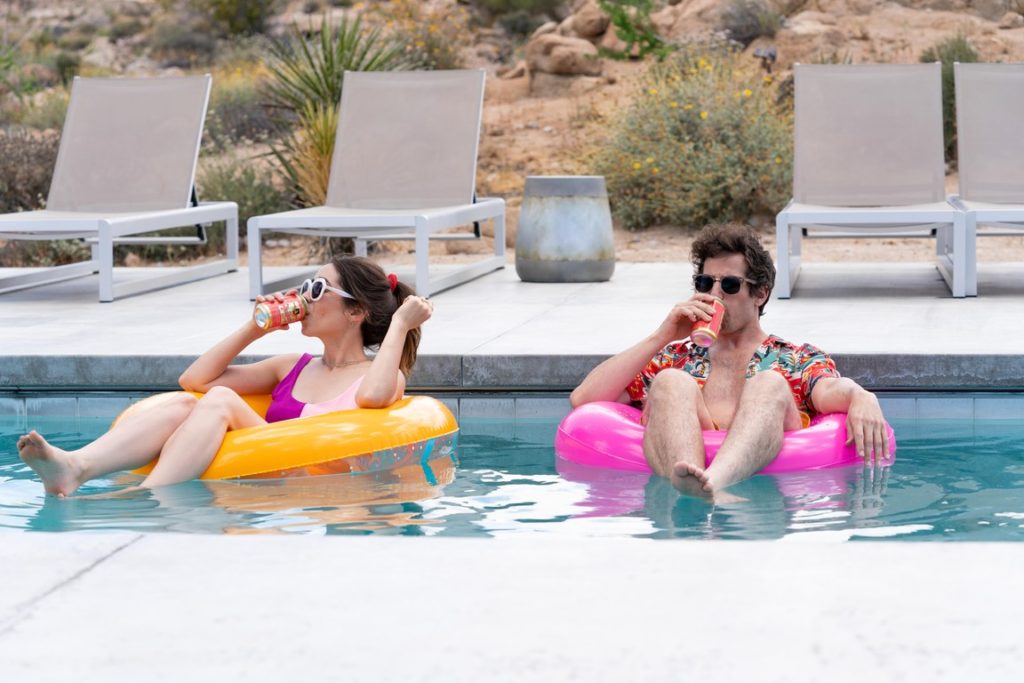 Many of you may know that Palm Springs, CA is where I've called home since 2018.  It's a place that I truly love, so when news came out of Sundance in January that a film set in and titled "Palm Springs" was sold to Hulu for a record-breaking price, we locals were curious as to how our little town would be portrayed on the big screen.  Well, despite the film's title, there's not a moment of the real Palm Springs in "Palm Springs" (most of the exteriors were shot in Santa Clarita), but the film has other priorities.  Indeed, the Palm Springs of the film is less about the town and much more about the state of mind of the people who find themselves here.
"Palm Springs" at first feels like a very familiar romantic comedy — destination wedding, impossibly good-looking bride and groom, two outcasts are attracted to each other and find that there's a romantic spark.  You can probably write the rest yourself.  The dorks in question are sullen maid-of-honor Sarah (Cristin Milioti) who's spending the wedding reception crawling into a bottle of red wine and life-of-the-party Nyles (Andy Samberg) who coaxes her to get away from the festivities for a walk.
So far, classic romantic comedy.  But when Nyles is suddenly ambushed by a bow-and-arrow wielding assassin (J.K. Simmons), the couple seek shelter in a lighted cave with mysteriously sucks them in.
OK, it's not "When Harry Met Sally."
To make matters even more, Sarah wakes up to realize that the wedding she attended yesterday hasn't happened yet, and she's stuck in a time loop from which she can't escape, replaying the same day over and over.  Nyles is stuck in the same loop, but he's fine with it — there are worse fates than being forced to live in a desert paradise, even if it's always the same day.  But Sarah wants out, no matter whether Nyles wants to go with her or not.
Before you say it's a ripoff of "Groundhog Day," consider that this film, as well as several recent works, have skillfully used the premise of that comedy classic to create something completely different.  Doug Liman's war film "Edge of Tomorrow," for example, used a time loop to kill Tom Cruise over and over again to make him a better soldier.  Natasha Lyonne's Netflix comedy "Russian Doll" used the same device to explore a woman's inner journey to find out what's happening to her.  And here, director Max Barbakow and writer Andy Siara, use the time loop premise to deconstruct the romantic comedy, as Sarah's struggle to get out ironically draws her even closer to Nyles.
The cast is solid all around, particularly Simmons who grounds his crazy behavior with a potent backyard talk with Nyles that is one of the highlights of the film.  And the always-welcome June Squibb (Oscar nominee for "Nebraska") also shines in a pair of cameos.
But it's the film's two leads who really push "Palm Springs" across the finish line.  For me, at least, this marks the first time that Andy Samberg has shown that he can carry a film as a believable romantic lead.  Yes, there are the usual goofy moments familiar to Samberg fans from "Saturday Night Live," but there are also several contemplative ones that the actor fields beautifully.
But the unexpected star of "Palm Springs" is Cristin Milioti, known to television fans as the mother of "How I Met Your Mother" and to theater fans for her Tony-nominated performance in "Once."  I've seen those performances, but they did not prepare me for what she pulls out here, as Milioti's Sarah is both funny and fearless, deftly communicating panic while never letting her performance to slide into hysteria.  It's terrific comic work, easily one of the year's funniest performances and one that I hope will lead to more film comedy work for this terrific actress.
In a way, "Palm Springs" is a film that perfectly fits the times of a pandemic.  Just as Niles and Sarah are doomed to spend yet another identical day again and again, so many of us may feel that we're stuck in a time loop of our own, unable to get out and live the lives we once knew and anxious to find something to get us out.  As we sit and enjoy the dilemma of this couple, "Palm Springs" offers us some relief and even a little hope that we will all get out of this time loop sometime very soon.
"Palm Springs" is now streaming on Hulu.
GRADE: B+