SEPTEMBER 3, 2020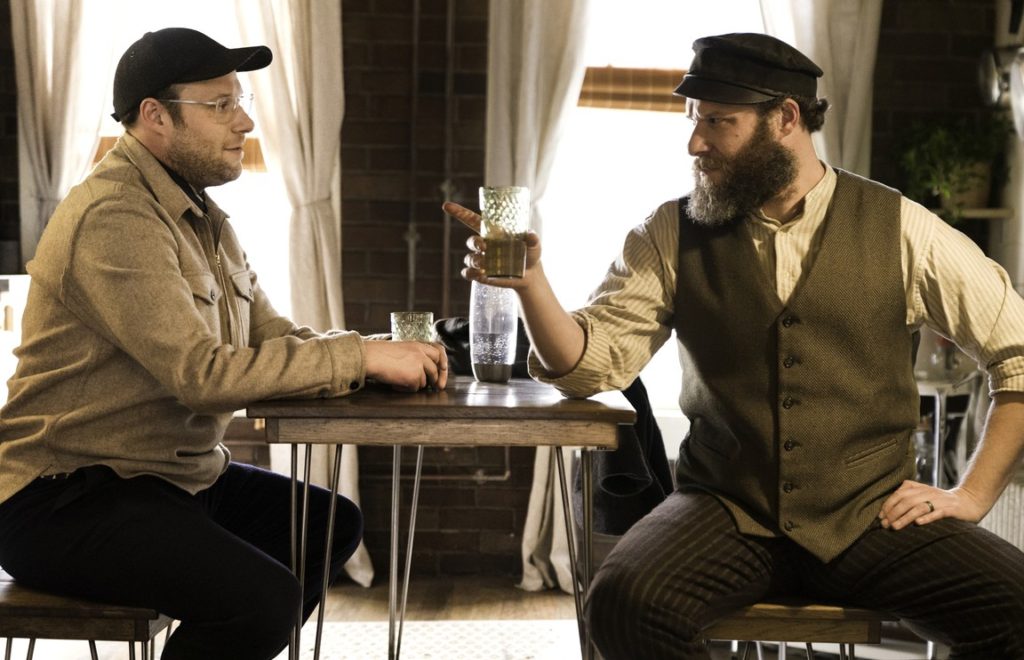 I never thought that I would be reviewing a movie called "An American Pickle," but here we are. What's even more surprising is that the film, which is currently available on HBO Max, contains the best performance that I've ever seen from Seth Rogen.
Yes, the premise of the film is preposterous — an immigrant in 1919 falls into a Brooklyn pickle barrel and is brined for a century, awakening disoriented in 2019 and realizes that he has no family left to call his own. But Herschel Greenbaum (Rogen) does indeed have a Brooklyn relative — his great grandson Ben (also Rogen) — who is a freelance app developer. Ben is a bit of a doofus, but he is still more mature than the stoners that Rogen has played in the past.
What we have here is an unusual variation of the classic fish-out-of-water genre of film, which peaked in the 1980s, with 1984's "Splash" and and "Crocodile Dundee" (1986), and had a brief resurgence with 2007's "Enchanted."  As crazy as this film's premise might be, it has a sense of gravitas at its core that makes it stand out from other films in its genre.
Based on screenwriter Simon Rich's short story "Sell Out," "An American Pickle" deals with grief in a way that you don't associate with film comedy and certainly not any Seth Rogen film. Suddenly living in Brooklyn 100 years later than in his Eastern European life in the town of Schlupsk, Herschel learns that he has lost his beloved wife Sarah ("Succession's" Sarah Snook in a nice turn).  At the same time, Ben has lost both of his parents and is still grieving years later.  Herschel believes that Ben is having trouble coping because he has lost his Jewish faith, which Herschel sees as a path that could provide him with a powerful way to cope with his grief.
Herschel, who is grounded with a solid work ethic, is disappointed to see that Ben has been working for 5 years on an internet app with no success.  Ignoring his great-grandson's failures, Herschel sets out to turn the only business he knows — pickles — into a curbside success in gentrified Brooklyn.  And with the help of social media (of which Herschel knows nothing), his business becomes an oh-so-fashionable success, raising resentment from Ben.
After a surprisingly potent first act, here's where I think that "An American Pickle" begins to go off the rails.  Until this point, Ben is an amiable schlub perfectly capable of redeeming himself to become the kind of descendant of whom Herschel could be proud.  But the lengths to which Ben responds to Herschel's disrespect to so disproportional to what his great grandfather had done causes us to lose empathy with Ben just at the time the character needs it most.
It's only through Rogen's likability that we choose to stay with the character throughout a preposterous Act III.  He's not afraid to make Ben dislikeable (and Herschel is no day at the beach, either), but I wound up admiring the actor's adherence to character, even though it would have been easier for the actor to just wink at us as if to say "I'm not really like this," and that's why I admire both of Rogen's performances here as his best ever.
As much as I'm disappointed in Rich's screenplay, I have to say that Rogen transcends it throughout the film's descending three acts, so here's to "An American Pickle," or more importantly, what Seth Rogen achieves with it.
GRADE: B