OCTOBER 1, 2020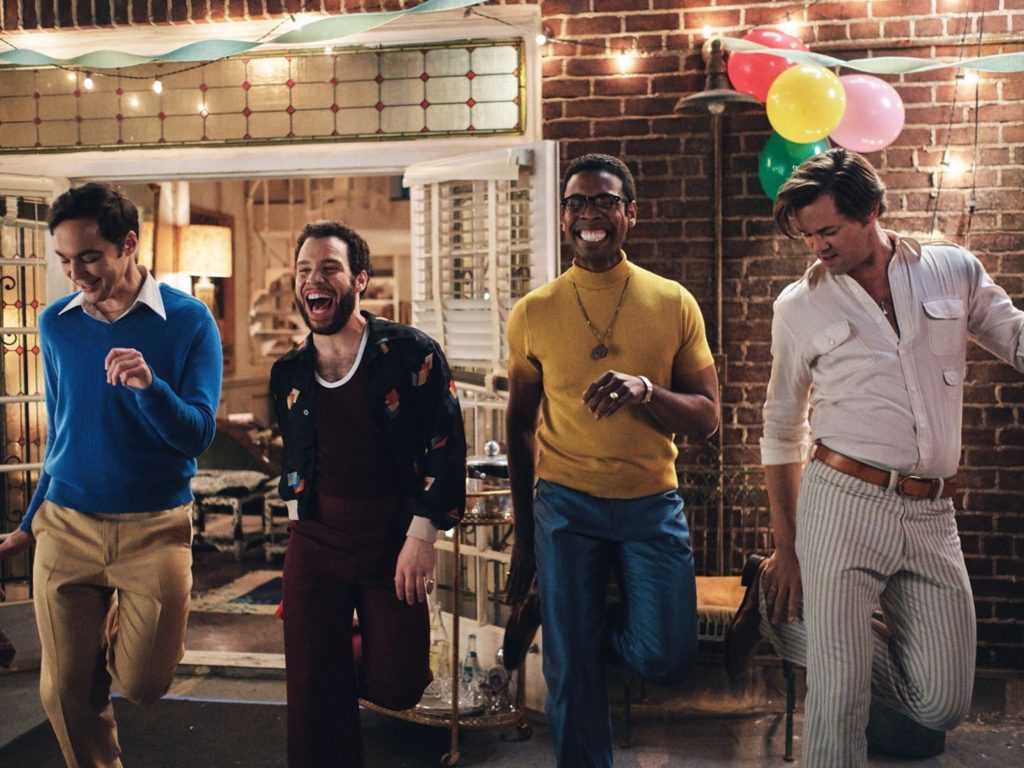 One of the great ad lines from the 1970s was the poster for William Friedkin's film version of the landmark play which proudly touted that "'The Boys in the Band' is NOT a musical."  Given the frank talk of the play, anyone entering the theater was disavowed of that notion pretty quickly.
Now "The Boys in the Band" is back in a new take, helmed by out director Joe Mantello who also directed the 50th anniversary of the play in its first-ever Broadway run in 2018. As Friedkin did with his film, Mantello wisely kept his original Broadway cast together for the Netflix film, and the chemistry that these actors have with one another after working together for months on Broadway really does show.  It's easy to believe that, despite the horrible things that they say to one another (and they are horrible), these characters are genuine friends.
If you're not familiar with the set-up, Michael (Jim Parsons), a gay Catholic, along with his close friend Donald (Matt Bomer), is hosting a birthday party for their good friend Harold (Zachary Quinto), a self-described "32 year-old pock-marked Jew fairy" and his birthday present, a young hustler they call Cowboy (Charlie Carver).  The guests include Emory (Tony nominee Robin de Jesús) a flaming queen who's bringing lasagna, the bookish Bernard (Michael Benjamin Washington) and a couple — the straight-laced Hank (Tuc Watkins) and his promiscuous partner Larry (Andrew Rannels).
As the guests wait for Harold, who is habitually late, Michael receives a tearful call from his old college roommate Alan (Brian Hutchison), who is very straight and needs to see him just for a drink.  Needless to say, once Alan arrives, the fur flies.
Friedkin's original cast was 1/3 straight actors who did terrific work playing characters that were outside of their comfort zone. But Mantello's cast is 100% LGBTQ, and the difference shows.  These are actors who intrinsically know the milieu that the play is working in, and they act the hell out of it.
Parsons, who earned an Emmy nomination this year as a predatory gay agent in "Hollywood," plays Michael as an in-control guy until he collapses at the end.  Bomer does a great take on Donald (a character that I never really understood until now) and Quinto doesn't showboat as Harold (a role that can easily be overplayed). Washington is very good as Bernard, a character that is woefully underwrittten, and Hutchison as Alan and Watkins (whom I remember from my soap-opera days from "One Life to Live") are excellent as well.
To my mind, the two standouts in the cast are de Jesús, who actually underplays Emory (compared to the enjoyably swishy take that straight actor Cliff Gorman took in the 1970 film) and Rannels.  Larry is not written as a standout character, but Rannels, ostentatiously smoking in a cab, makes the role his own.  This is a really solid ensemble, which is necessary for "The Boys in the Band" to be believable.
What began as a play in a small off-Broadway theater in the Village in 1968 has had many ups and downs in its lifetime.  Originally hailed as a breakthrough for its depiction of gay life at the time, "The Boys in the Band" came into ridicule in the clone era as an example of an outdated look at gay life.  But in recent years, the play is being reconsidered as a snapshot into what gay life was like prior to Stonewall. And that's what so great about it.
Mantello's film echoes that reconsideration as it provides an updated take on gay life from half a century ago. As good as the Friedkin film is (being sandwiched between his wonderful "The Night They Raided Minsky's" and his Oscar-winning work on "The French Connection"), I think that Montello's work here is even better, capturing a specific period of time yet with a modern sensibility.
Even if you think that you may not like this material, I would suggest to give it a try.  Sit back with an adult beverage and enjoy the wonderful lines that Mart Crowley has concocted from his own life experience.  You won't be disappointed.
GRADE: A-