JANUARY 19, 2021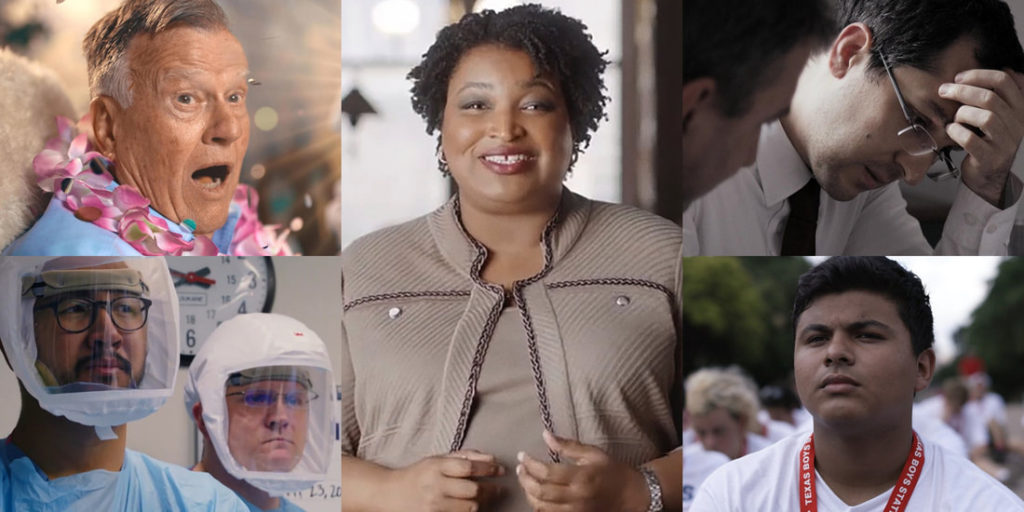 Unlike the race for Best International Film, where many of the leading contenders are difficult to locate and screen, the nomination contest for Best Documentary Feature offers films that can easily be found on line since most of the major streaming services have at least one serious documentary in the hunt. Still, in a category where the leading contenders include an exposé of voter suppression, a profile of truffle-hunting dogs, and even a fanciful look at death, the apples-and-oranges nature of the competition makes it very challenging to predict which 15 films will make the documentary feature shortlist, much less the final five nominees.
But, as always, let's try. Here are ten very different documentary features that I suspect will be given serious consideration by Oscar voters and stand the best shot of being included in the shortlisted 15 this year.
"All In: The Fight For Democracy" (Amazon Prime)
The star power of voting rights activist Stacey Abrams and the potent issue of voter suppression come together in this advocacy documentary that details the history of suppression throughout the years and how clamping down on the vote, particularly against minorities, flourishes even today. Directors Liz Garbus and Lisa Cortés have structured the doc around Abrams' 2018 run for Georgia governor – a race she would likely have won had there not been alleged voter suppression by her opponent, Georgia Secretary of State Brian Kemp. More importantly, however, "All In: The Fight For Democracy" traces the curbing of Americans' voting rights back to the days of poll taxes and "literacy" tests right up until today's techniques, such as mandatory voter ID and the quiet elimination of voting sites in minority neighborhoods so as to make it more difficult to vote. "All In: The Fight For Democracy" is enormously entertaining (which may make its civics lessons go down easier with Academy voters) but never at the expense of the serious plight of minority voters who continue to have their votes systematically suppressed – an abomination that, unfortunately, shows no signs of going away soon.
"Boys State" (AppleTV+)
Winner of the U.S. Grand Jury Prize (Documentary) at the 2020 Sundance Film Festival, Jesse Moss and Amanda McBaine's film focuses on an annual meeting of a thousand teenage boys and girls that is held in Austin, TX. As suggested by the doc's title, the film focuses on the boys who are divided into "cities" and are forced to build a representative government from scratch. The excitement about the civic exercise slowly turns dark, however, when ego and factionalism begin to creep into the campaigns as to just who is going to run for which office. Sharp elbows are thrown and some ethically questionable campaigning emerges, precisely how it seems to work in Washington. Many critics have rightly compared the dog-eat-dog backbiting seen here to that of "Lord of the Flies," making "Boys State" a microcosm of the brutal political reality that is the American political system.
"Collective" (VOD)
While also in contention as Romania's entry for Best International Feature, Alexander Nanau's documentary may find a more natural home in this category in its real-life story that follows a team of investigative journalists as they probe the causes of a deadly nightclub fire. Twenty-seven lives were lost at the scene, but many, many more succumbed in the hospital where the death toll kept inexplicably rising weeks after the tragedy. At the same time, the owner of a major pharmaceutical firm dies in a mysterious accident, and a health minister unexpectedly steps down from the job. These three events would appear to be unrelated…until it's shockingly revealed that they're not. What's striking about "Collective" is that the investigation is filmed as it happens so that we learn about the twists and turns in the case at the same time as the investigators do – a thrilling approach.
"Crip Camp: A Disability Revolution" (Netflix)
Higher Ground Productions, the production company founded by Barack and Michelle Obama, is the reigning champion in this category, having won the Oscar last year for "American Factory." So "Crip Camp" was eagerly anticipated by doc fans, and it did not disappoint. With much of the film set in 1971 at Camp Jened, a camp in the Catskills that offers disabled teens a chance to be themselves with others who also face the challenge of a disability, "Crip Camp" follows several campers (both back then and in the years following) who, despite (or perhaps because of) the empowerment that they received at camp, go on to lead the movement for recognition of the rights of the disabled in the years to come. The emotional subject matter could have easily turned the film into something schmaltzy or even cringe-worthy but in the steady hands of co-directors Nicole Newnham and James Lebrecht, "Crip Camp" is inspiring and powerful.
"Dick Johnson Is Dead" (Netflix)
In a year in which the leading documentary contenders are varied in theme and approach, "Dick Johnson Is Dead" is nonetheless a major standout. Filmmaker Kirsten Johnson turns her camera on her father, Dick, who is slowly dying of dementia and proposes that, given Kirsten's dark sense of humor, they recreate various bizarre ways that Dick may die. It's an unusual way to cope with facing death and its subsequent grieving, but it makes for a compelling film. One caveat, however: If "Dick Johnson Is Dead" is currently considered the category front-runner after winning this year's Critics Choice Documentary prize, don't forget that the last three winners of this award, front-runners all – "Jane" (2017), "Won't You Be My Neighbor?" (2018) and "Apollo 11" (2019) – were all snubbed on Oscar nomination morning.
"The Dissident" (VOD)
Director Bryan Fogel's 2017 film "Icarus" clinched a come-from-behind Oscar win in this category, and Fogel may be looking at his second win with this provocative story of the Saudi government's possible involvement in the grisly murder of Washington Post columnist Jamal Khashoggi. "The Dissident" covers the shocking dismemberment of Khashoggi and speculates that even the Saudi royals may know more about the incident than what they're telling. Interwoven with that narrative is one that argues that the life of a Khashoggi confidant, video blogger Omar Abdulaziz, is in serious danger thanks to what he may know about the murder. It should come as little surprise that "The Dissident" itself is not without controversy. After Netflix's success with "Icarus," Fogel surprisingly found himself a man without distribution for "The Dissident," with Netflix, Amazon Prime, and Hulu staying far away from the film, perhaps because of potential retribution from the Saudi government which could result in a loss of subscribers. Fogel has now become the underdog in this distribution fight, but on the bright side, he was the underdog once before with "Icarus," and look what happened there.
"Time" (Amazon Prime)
"Time" is the kind of documentary to which I'm irresistibly drawn – a moviemaker sets out to make one film, but happenstance interferes, and a completely different film emerges. In the case of "Time" director Garrett Bradley was working on a short film and met Sibil Fox Richardson (called "Rich"), who had been fighting for the release of her husband Rob from prison where he was serving a 60-year sentence. To help, Rich gave Bradley 100 hours of mini-DV tapes containing home videos she had recorded over the previous 18 years. Suddenly, Bradley's short film became a feature that takes on the American prison industrial complex and chronicles the marriage of a young couple over nearly two decades who have been torn apart and desperately want to get back together. In that sense, "Time" is sort of a "Boyhood" for documentaries. For her work on "Time," Bradley won the Directing Award for the U.S. Documentary at the 2020 Sundance Festival, becoming the first African-American woman to do so.
"Totally Under Control" (Neon/Hulu)
This year, there have been two powerful COVID-19 documentaries: "76 Days," which is set in an ICU unit in Wuhan, China, during the earliest days of the pandemic, and co-director Alex Gibney's "Totally Under Control,"  which is a searing indictment of the Trump Administration's botching of the COVID-19 crisis. Of the two, Gibney's doc appears to have the upper hand at the moment in the awards race, given its topicality and the filmmaker's Oscar-winning career. Gibney, along with his co-directors Ophelia Harutyunyan and Suzanne Hillinger, works on two tracks here. He shines a spotlight on those courageous individuals who were among the first to try to warn the powers that be of the seriousness of the coming pandemic, and those powers in the Trump Administration who turned their backs on these brave souls, fearful that any pandemic talk would make Trump look weak. "Totally Under Control" will likely infuriate you (and probably provoke Academy voters), but as long as it can lead to action, that's a good thing.
"The Truffle Hunters" (Sony Pictures Classics)
This decidedly different documentary profiles several elderly men in northern Italy who, along with their beloved dogs, scour Piedmont's woods to find the rare and valuable Alba truffle. But that's only part of the story. The hunters then sell their finds to truffle brokers, who in turn sell them to truffle consumers for exorbitant amounts of money. As fascinating as the hunters are as individuals, what you'll likely remember from "The Truffle Hunters" are their adorable dogs, with directors Michael Dweck and Gregory Kershaw even utilize at times a doggie-cam that allows us to see the hunt from a dog's perspective. For the moment, Sony Pictures Classics plans to release "The Truffle Hunters" in theaters on March 12.
"Welcome To Chechnya" (HBO Max)
David France's look at the government crackdown on LGBTQ citizens of Chechnya throughout the late 2010s is notable for several reasons. First, and most importantly, it captures the rescue of a number of LGBTQ Chechens who have had their lives threatened by a violent purge by the country's latest Putin-appointed strongman. Thanks to an underground railroad of sorts and the Russian LGBTQ Networks' efforts, which help to bring the oppressed to safety, the queer refugees interviewed by Prince are momentarily safe. However, to make sure, Prince goes one step further in protecting their identity by utilizing sophisticated facial-disguise technology to replace the hunted's face with that of another person. "Welcome to Chechnya" may play like a white-knuckle thriller, but it all really happened.
Though otherwise a horrible year around the world, 2020 was actually a pretty good year for feature documentaries. I could have put together a completely different list of 10 other films, each as worthy as these ten. All we can hope for is that the very best of the best will be the ones that show up among Oscar's final five nominees. Oscar's shortlist of the 15 semi-finalists for Documentary Feature will be announced on February 9.
This article originally appeared at Next Best Picture.