JUNE 10, 2019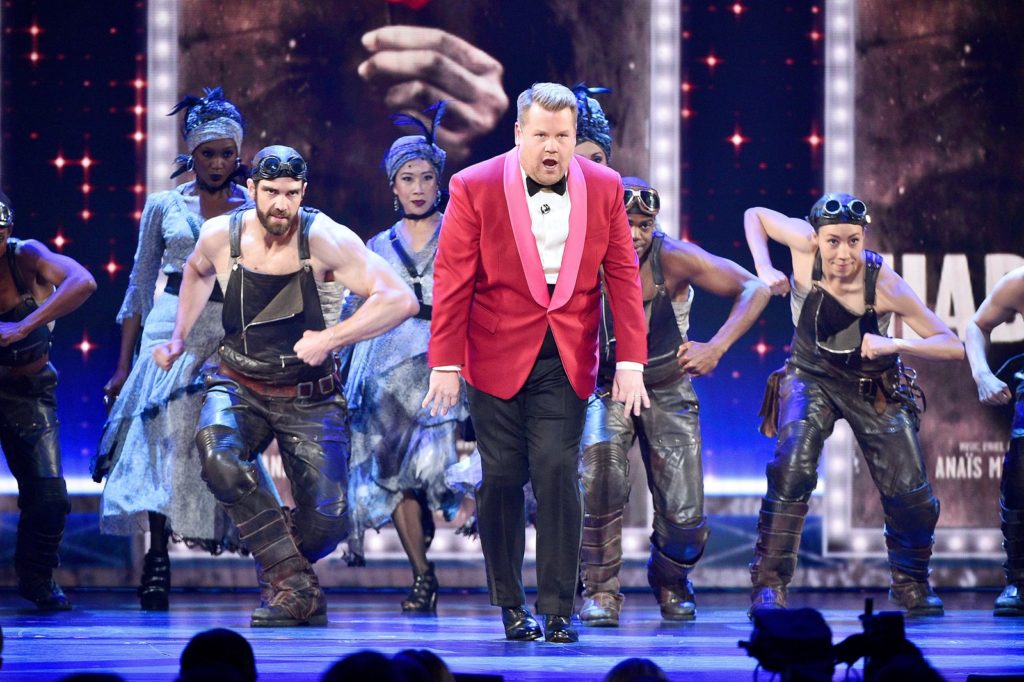 After a moving turn as host of the Tony Awards in 2016 that occured just hours after the deadly Pulse nightclub shooting, James Corden returned on Sunday to host the Tonys once again, but this go-around, sad to say, the results were comparatively lackluster.
No fault of Corden's — as usual, he gave it his Broadway-loving all — but the material with which he had to work just wasn't there.  The show's opening number in which Corden urges in song that American couch potatoes turn off their TV and go see a Broadway show because it's live turned into a cluttered traffic jam of performers onstage.
Better was a spoof of the "Michael in the Bathroom" number from the musical "Be More Chill" in which Corden, sitting in a Radio City bathroom stall, bemoans the impossible task of hosting the Tonys and is joined by last year's hosts, Josh Groban and Sara Barielles from adjoining stalls, echoing the same thought and realizing that CBS would rather replace them all with Neil Patrick Harris (who, of course, is in the very next stall).
Best of all was an initially-unpromising bit where Corden tried to stir up fights between celebrities in the audience, who are of course way too nice to comply.  But when Audra McDonald accuses Laura Linney of giving her the finger, they get get ready to rumble.  (The sight of six-time Tony winner McDonald yanking off her earrings to get down was priceless.)
As always, the highpoints of the telecast were performances from the season's musicals, and most acquitted themselves well, particularly "The Prom" and "Rodgers and Hammerstein's Oklahoma!" although the night's big winner "Hadestown," which took home 8 Tonys, offered a number that appeared to this viewer to be downright confusing out of context, though it's not likely to affect that show's sellout status.
With most of the favorites winning, the awards themselves had a lack of suspense to them, although a number of acceptance speeches were among the evening's best moments.  Ali Stroker (Best Featured Actress in a Musical for "Oklahoma!") became the first performer with in a wheelchair to win a Tony and spoke movingly of the award's meaning for her.  87 year-old comedy legend Elaine May (Best Leading Actress in a Play) revealed that her award was the first that she had ever received for her acting.  And playwright Mart Crowley (Best Revival of a Play for "The Boys in the Band") paid tribute to the original 1968 off-Broadway cast, many of whom risked their careers at that time to take their roles and several of whom succumbed to AIDS years later.
With that, here are the winners of the 2019 Tony Awards, and congratulations to all:
*********************************
Best Musical:  "Hadestown"

Best Play:  "The Ferryman"

Best Revival of a Musical:  "Rodgers and Hammerstein's Oklahoma!"

Best Revival of a Play:  "The Boys in the Band"

Best Performance by an Actor in a Leading Role in a Musical:  Santino Fontana ("Tootsie")

Best Performance by an Actress in a Leading Role in a Musical: Stephanie J. Block ("The Cher Show")

Best Performance by an Actor in a Leading Role in a Play:  Bryan Cranston ("Network")

Best Performance by an Actress in a Leading Role in a Play: Elaine May ("The Waverly Gallery")

Best Performance by an Actor in a Featured Role in a Musical:   André De Shields ("Hadestown")

Best Performance by an Actress in a Featured Role in a Musical:  Ali Stroker ("Rodgers and Hammerstein's Oklahoma!")

Best Performance by an Actor in a Featured Role in a Play:  Bernie Carvel ("Ink")

Best Performance by an Actress in a Featured Role in a Play:  Celia Keenan-Bolger ("To Kill a Mockingbird") 
Best Direction of a Play:   Sam Mendes ("The Ferryman")

Best Direction of a Musical:  Rachel Chavkin ("Hadestown")

Best Book of a Musical:   Robert Horn ("Tootsie")
Best Original Score (Music and/or Lyrics) Written for the Theater: "Hadestown," music and lyrics: Anaïs Mitchell

Best Scenic Design of a Play:   Rob Howell ("The Ferryman")

Best Scenic Design of a Musical:   Rachel Hauck ("Hadestown")

Best Costume Design of a Play:  Rob Howell ("The Ferryman")
Best Costume Design of a Musical:  Bob Mackie ("The Cher Show")

Best Lighting Design of a Play:  Neil Austin ("Ink")

Best Lighting Design of a Musical:  Bradley King ("Hadestown")

Best Choreography:  Sergio Trujillo ("Ain't Too Proud")

Best Orchestrations:  Michael Chorney and Todd Sickafoose ("Hadestown")

Best Sound Design of a Play:  Fitz Patton ("Choir Boy")
Best Sound Design of a Musical:  Nevin Steinberg and Jessica Paz ("Hadestown")